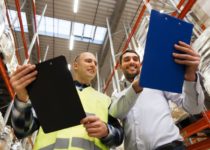 Smart logistics choices have a broad knock on impact across the business. From ensuring that customer expectations are met, through to avoiding the cost of damaged items and inefficient shipping, there are many ways in which positive logistics can help to save money, both directly and indirectly. If your business is currently struggling under the weight of its logistics costs then partnering with a logistics company could help you to save money on your deliveries in a number of ways.
More cost effective shipping methods
Logistics companies have the benefit of years of experience and insight into the most up to date options when it comes to delivery. Partnering with a logistics company means you'll be able to make the best use of your resources by opting for the most cost effective shipping methods that bring your deliveries in on budget, as well as on time.
Consolidated shipments or deliveries
It may be that there is a more efficient way to organise your deliveries that ensures customers receive the same fantastic service but your business pays less for it. Consolidating deliveries is something that a logistics partner could help you to implement to bring costs down in a sustainable way.
Upgrading performance
If your current logistics arrangements are letting you down then you may be noticing issues such as damage to goods in transit, inaccurate billing and shipments that often arrive late and require you to refund the cost of the delivery to your customer. All of these can be costly to the business and are unnecessary expenses that the right logistics partner could help you to avoid.
Cutting edge systems and tech
Outdated software programmes, poor warehouse management systems and a lack of inventory tracking can cause serious logistics issues when it comes to ensuring cost effective delivery. If you're currently using an entire logistics solution with a provider that just doesn't perform – or where the costs are high – this could be as a result of the logistics set up. A great logistics partner will be working with the latest systems and technology so that the cost and efficiency benefits of cutting edge tech can be passed on to customers
Reducing product damage
Product damage costs can be crippling if they recur – and, if this is a continuous expense for your business then the issue may well be the current delivery arrangements that you have in place. Products that are damaged in transit result in refunds or replacements and could also mean customers don't return to you again. The right logistics partner will help to ensure that this is not a regular occurrence and that the contents of your packages end up in the right hands, undamaged.
Logistics management
Staying on top of logistics and delivery can be challenging, especially where there is high volume to deal with, but it's incredibly necessary – to avoid costly mistakes. Working with a logistics provider simplifies logistics management so that you have access to all the key information about your deliveries but you don't have to manage everything yourself.
At UCS we offer smart and forward thinking logistics solutions that are designed to save you money – contact us to find out how we could help your business to cut costs.