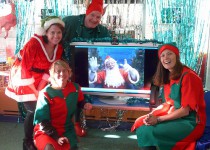 The Connected Santa program is back this Christmas and will run for two weeks beginning on Monday 12th December.
All the support last year made the event a huge success. Everyone involved is hoping this will surpass last years performance.
Cisco set up a video link so children in one of several hospitals can meet Santa via live video feed. Each child will get to interact with Santa and will also receive a present.
Cisco are currently asking all employees to donate the gifts for each child. The target for gift donations is 500 so that each child can receive a gift.
UCS are happy to support Cisco and are committed to arranging the delivery of the gifts to each hospital.
We at UCS feel this is such a great cause and are really pleased to be given the opportunity to help out.
If you would like to provide a donation of receive further information please email info@theucsgroup.co.uk or cfitch@cisco.com