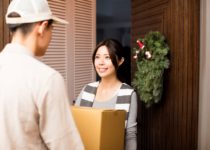 Your customers are the foundation of your business. Not only that but they represent a considerable cost saving too. Research shows that it costs six to seven times more to acquire a new customer than to sustain a relationship with an existing one. So, in terms of the cost to benefit ratio, your existing customers are a much more attractive option. The Christmas period tends to be busy for everyone – it's also the ideal time to cement customer loyalty to your business in 2019 by going the extra mile now.
Use the tool of human interaction
Stay in touch with your customers when it comes to providing information about deliveries. Christmas can be a stressful time for everyone and ordering last minute gifts or decorations can leave your customers biting their nails worrying whether items will arrive in time. Providing key, timely information can help to manage expectations and regular updates that are human in tone – as opposed to sounding entirely machine automated – will make customers feel engaged and valued.
Integrate tracking into your processes
Real time tracking is another way that businesses can help customers to feel more satisfied with the service that they receive. Tracked deliveries enable any issues surrounding the location of an item to be quickly resolved and reduce the potential for disputes. Providing tracking links to the customer means that they can keep an eye on a delivery themselves and don't constantly have to contact your customer service team. This will not only save you time but also improve customer satisfaction because it's much more efficient.
Be clear about the process from the start
Particularly at Christmas, deliveries can become complicated by offices and logistics providers shutting down over the festive season. There may also be backlogs to deal with during very busy periods. Part of ensuring that customers feel satisfied with the service that they receive from your business is providing clear and unambiguous information about that service. How fast can deliveries be shipped, are there any potential obstacles to consider and what can customers do to get the items they need on the dates they are required?
Know your customers
You'll find it much easier to go the extra mile for customers if you have a solid understanding of what they want and need from your business. Use analytics and data to see who your customers are and ask for feedback so you can understand whether your brand is delivering for them. If you know what will make your customers happy then you're much more likely to be able to give it to them.
If there is an issue, apologise
There is nothing worse for a customer when something goes wrong than a brand that won't accept responsibility or take steps to solve the issue. If a problem arises, apologise and then start working to resolve it. Even problematic experiences can be turned into positive ones when customers feel a brand has gone above and beyond to correct a situation – especially at Christmas.
We offer a range of delivery services designed to ensure your customers always feel like you have gone the extra mile for them. Get in touch with UCS today to find out more.