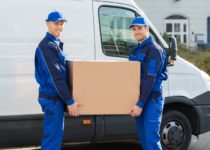 Although many companies may not have the capacity in house to make deliveries on the scale they need, it can be difficult to trust a third-party courier provider to make deliveries on your behalf. This is because when they take that role, they are acting as a representative of your company, and they therefore need to reflect the high quality of your brand and in-house values during this process. There are a number of ways that they can do this, and if they are able to demonstrate these things, your chosen courier provider will represent your brand in the best possible way.
Fast and convenient delivery times
You will want to choose a courier service provider that will offer a choice of express delivery times to customers. Something like next-day delivery might clinch the deal with many of your customers and their decision to buy from your company if they require the items quickly. If your couriers can offer dedicated delivery timeslots this is also preferable and demonstrates your willingness to accommodate the requirements of your customers and deliver at a good time for them.
Couriers with great communication
Communication and interpersonal skills are central to great customer service, even through your courier services. It's important that your chosen couriers are friendly to your customers upon delivery, and communicate politely and efficiently throughout this process, for example calling ahead of the delivery if there is a delay or to let customers know when to expect their delivery to arrive.
Security and transportation
Security is important for many customers, especially when their order is worth a large amount. Customers don't want to worry about their items being marked as delivered and left somewhere where it could be taken – ideally the items should be put in a specified safe place or delivered face-to-face, which is why it is important to ensure that the courier service you choose is reliable and trustworthy to work with integrity and provide secure delivery. Transportation should also be secure in order to ensure that parcels are not intercepted at any point.
Choosing a logistics partner for you
Ultimately you will need to decide which courier service would best reflect your values in-house and provide the levels of service that you want for your customers. This customer-centric approach leaves your customers happy and your brand in a positive light.
Every business will have unique courier needs, so you can get in touch with UCS today to 08448 793229 to see whether our courier services would be a good fit to work with you.