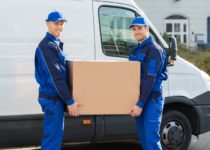 Delivery and logistics have a key role to play in business performance. A simple, streamlined approach ensures that systems perform better and customers receive a more satisfying service. So, how do you simplify your logistics and delivery to ensure that's the case?
Rethink your packaging
Are you getting a lot of complaints about items arriving broken? Do you find that customers feed back that they feel the packaging you use is excessive? Packaging needs to provide adequate security for whatever you're sending and meet the needs of your logistics provider. However, you'll also be a more popular brand if your packaging choices are smart and less wasteful too.
Do you need new delivery options?
The dimensions of the products you're delivering, as well as the type of products and whether they require any storage, will all have an impact on the delivery options that you require. If current delivery options aren't fulfilling key objectives then it might be time to find a logistics provider able to give your business what it really needs to thrive.
Reliable logistics and delivery can make or break your business
A reliable courier is crucial to small business success. Growing customer retention by as little as 5% can result in profit increases ranging from 25% to 95% – and convenient, swift delivery is fundamental to whether your customers choose to return to you or shop elsewhere. Make sure you're working with a courier you know will deliver on promises and which understands the very specific demands placed on a business your size.
Choose a logistics partner willing to align their goals with yours
The right logistics and delivery partner should feel like they're part of the business, plugged in to the best way to operate to produce satisfied customers. From timing constraints through to the range of different logistics services available, if your current logistics partner is not the right fit then the relationship could be holding your business back. The logistics marketplace is large and competition is stiff so if you aren't happy with your current provider there are many other options.
Make sure your goods are getting the right treatment
You might have products that need handling with specific care or items that need to be delivered fresh as soon as possible. The way your logistics is set up – and the company that you partner with – will make a big difference to the condition your products arrive in with the customer. Very specific handling requirements may necessitate a specialist courier to ensure that customer service levels remain high.
Automate your processes
Providing tracking information empowers customers and builds trust, as well as cutting down on the number of enquiries you have to deal with. Automated warehousing ensures that everything on site is easy to find. If you're looking for ways to simplify your logistics processes then automation is an easy way to do it.
At UCS we work hard to achieve satisfying logistics and delivery partnerships that shore up customer loyalty and make your life easier too. Contact us to see how we might be able to help your business grow.