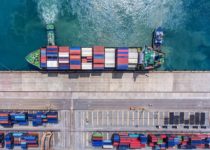 Making the leap from a domestic market to exporting to your customers internationally is a big step. With some careful planning and the right consideration it could open the door to success on a global scale. So, what do you need to think about if international shipping and exporting is your next move?
Do your research
It's always wise to spend some time planning a logistics expansion by looking into the local markets that you're intending to target. Which businesses are your competition there, either in terms of stores or digitally, and does your business have the financial resources to cover the costs of an expansion. Crucially, make sure that there is demand for your product in the market(s) that you're looking to target to make the investment worthwhile.
Quality and compliance
Local regulations and product standards apply as much to items being shipped in to a country as they do to domestic goods. So, make sure that you understand what these are and how they apply to what you're shipping. Product quality is another key element – standards of quality may be different depending on your target location and you may need to adjust manufacturing to ensure that you're compliant.
Do you need a licence?
Export licences are generally only a concern if you're exporting outside of the EU. However, there are some items that may still need an export licence no matter what the destination, such as electronics or medicine. It's always important to make sure that you have the right paperwork to send with products or there could be significant logistics delays.
Risk management is important
It's a good idea to factor into any planning and strategy a contingency against risks such as fluctuations in exchange rates, particularly given the impact of world events like Brexit. Dips in exchange rates could have an impact on profit margins so being prepared for this kind of unexpected change is key. Insurance is another crucial part of risk management for businesses. There is no legal requirement when it comes to logistics insurance but it can ensure that a business survives something like a loss of product in transit.
Efficient and cost effective logistics
The right logistics can provide the backbone for global expansion. Find a logistics partner that offers a wide range of services with a pricing structure that works for you. Reliability will be a key factor in terms of the logistics partner that you choose. Delivery that meets – or exceeds – customer expectations plays a key role in ensuring that customers will repeat purchase, so knowing that you can rely on your logistics partner makes life much easier.
Marketing and PR
If global expansion is on your horizons then marketing and PR campaigns and plans may need to be adjusted accordingly. You may need to consider changing the language you're using or making alterations to marketing based on different cultural themes. Plus, additional marketing budget might be useful for each location that you expand into.
At UCS we are provide reliable international delivery services and have more than 20 years of logistics experience. Contact us to see how we could help you export to international customers.