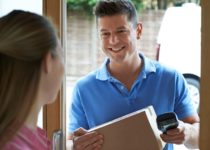 Delivery influences shopping decisions for your customers every day. According to PWC's Total Retail report, around a third of shoppers say that fast and reliable delivery is one of the reasons they shop with their favourite retailers. 28% also attribute shopping choices to a retailer with a good returns policy. So, customers are looking to shop with retailers that offer delivery that can exceed their expectations – there are a number of ways that you can achieve this for your own brand.
1. Offer order tracking
Tracked orders are completely transparent. Customers can see where their purchase is at all times and, if there are issues, these can be resolved with data that both the retailer and the customer have been a party to.
2. Invest in personalization
If you're personalising your orders then you're showing customers that your business takes into account their own individual needs, and values them as an individual customer.
3. Keep up with notifications
If customers are notified at key stages during the delivery process then this has a number of benefits for businesses. Not only are you much less likely to receive a large volume of enquiries about whether something has been dispatched, or its likely delivery date, but customers also feel kept in the loop. In fact, being able to communicate order status to customers is crucial to the process of exceeding delivery expectations.
4. Be as transparent as you possibly can
For example, make sure you're clearly identifying each item ordered in any correspondence. This is particularly crucial where you have orders that contain multiple items, especially if one or more of them is out of stock.
5. Dispatch swiftly
Ideally, orders should be heading out of the door within 24 hours to ensure that you're exceeding your customers' dispatch expectations.
6. Make sure your returns are simple and efficient
Returns have a big role to play in whether customers choose to shop with you – and whether they will return. Your business will benefit from a clear returns policy and a delivery infrastructure that can offer fast and efficient returns wherever your customers are.
7. Realistic delivery windows are key
It's far better to set a slightly longer delivery time and to meet (or exceed) it than to be overly ambitious and end up delivering late.
8. Identify your seasonal peaks and troughs
It's especially important to ensure that you'll have the resources to cope during peak times so that the dispatch and delivery process doesn't suffer.
9. Reevaluate your packaging
The packaging that you use for orders needs to be fit for purpose and to provide adequate protection. However, it also offers an opportunity to extend your branding and incorporate brand values, such as sustainability.
10. Find the right delivery partner
Reliability, choice, cost effective pricing and flexible service are just a few key features to look for.
At UCS we know how to help you exceed even your most demanding customers' expectations – contact us to find out how we might be able to help you.