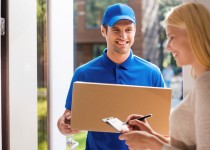 It can be a struggle to find a suitable logistics partner to take care of your domestic and commercial distribution. There are a number of things that you need from them in order to ensure that they'll give customers the same high quality experience that your business aims to provide. With that in mind, what are 3 positive things that your logistics partner should be able to deliver for you:
Speed of delivery
The fast-paced world we live in means that orders will be placed with an expectation of an efficient delivery service. Your commercial customers ordering stock will likely require delivery within a tight deadline. Personal customers will also expect delivery within a couple of days at most.
Expected delivery time can be a key factor when customers are choosing whether to buy from you or look elsewhere. The faster delivery you can provide, the more sales you are likely to make, since some customers' orders will be time sensitive. If you choose a logistics partner that can guarantee next-day delivery, as well as flexible delivery times, this will reflect the high quality of your business, and provide the best services to your customers.
Protected items
Another concern that you may have is that your deliveries are transported securely and received by the correct person – or at least left in a chosen, secure location. Lost or damaged parcels can incur huge costs to replace, not to mention leaving a very dissatisfied customer and damaging your brand reputation. This is particularly important for commercial customers whose orders may be larger or of higher value, where the implications of the delivery being delayed are more significant.
The most secure delivery option is via courier services, who will deliver parcels from door to door, and often require a signature for the parcel to be received. This eliminates the possibility of the parcel being lost or damaged during the delivery process, and improves overall customer service and satisfaction.
Trained and professional couriers
Your logistics partner should be one that you can trust implicitly to deliver the services that they say they can. Couriers should be trained to communicate with the buyer, and send them a message on the day of delivery to advise or confirm a delivery time. They should also be experienced in customer service and provide an excellent service to customers receiving parcels to mirror your customer-centric ethos and bring the best customer service right to their doorstep. Reliable couriers will enable you to rest assured that all orders reach your customers on time. This will encourage repeat business and enhance your brand image.
Choosing the right logistics partner
UCS Global are experienced global logistic specialists with an understanding of what both you and your clients want. We work alongside you to find the best solution for your customers, and guarantee the secure delivery of all parcels.
Find out more about how a logistics partner could reflect the high quality of your business by giving UCS a call today on 08448 793229.