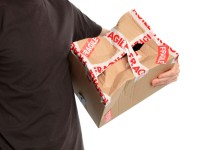 Ordering products online is now a familiar concept with most buyers. Whether you're shipping to an independent customer or to other businesses, it's vital to ensure that orders reach them in the condition that they should, and on time. Some retailers choose to use Royal Mail post services, or other similar parcel delivery services to send their deliveries. However there are a number of things that can go wrong during the delivery process, and leave you with unhappy customers. So what are the top delivery complaints and how can courier services eliminate them?
#1 Inconvenient delivery times
Everyone works different hours, and this can make it difficult for deliveries to be received. I'm sure that most of us have experienced coming home to a coloured "We missed you!" card that's been put through the door, and having to make a journey to the Post Office to pick it up. Not only is this extremely inconvenient, but it can be annoying for your customers if they needed their parcel to be delivered for a specific deadline or occasion.
Courier services very rarely miss their deliveries due to the fact that your customers can often choose a time that suits them. You can even incorporate an online tracking system into this process to keep your recipients updated on the status of their order. Couriers will often send a reminder shortly before the delivery takes place to give your customers time to be available. This has a huge impact on improving your overall communication, customer services and reputation.
#2 Parcels left in unsecure locations
The worst thing that can happen once parcels are sent out for delivery to your customers is that they don't arrive once they're marked as 'delivered'. If your customers don't receive their order, not only will this have a negative impact on your brand, but also will cost you to replace the item and send it again. There is a high likelihood of the product becoming damaged, or even stolen. The most common cause of this is the delivery services leaving the parcel in an unsecure location.
Trustworthy couriers will personally deliver the parcels, and ensure that they are received and signed for. If no one is in, they can take the parcel away and try to redeliver at a later time. If you do incorporate this into an online system, you can make it so that couriers receive any specific instructions about where to leave the parcel. This helps you to guarantee consistently successful and secure deliveries for your customers.
#3 Parcels received by strangers
Another common customer complaint is that parcels are being left with strangers. Many people live in shared houses, and it's uncomfortable having to knock on the door of a neighbour a few houses along to pick up a parcel. Leaving a parcel with a neighbour is common practice for many large delivery services. During this time, the parcel could be tampered with or the order damaged, leaving you with an unsatisfied customer and an order to replace.
Courier services deliver directly to the person who made the order. It is a signed-for service that can be received only by the recipient of the parcel. This removes any security risks and reduces the likelihood of the delivery being damaged. For large orders, or orders of high worth, this is vital, and businesses in particular will appreciate this in the case of stock orders or urgent deliveries.
A courier service is a door to door service which is cost effective, quick and most importantly, secure. For customers and businesses alike, this delivery service can't be beaten – since it guarantees customer satisfaction and encourages repeat orders.
Find out more about using courier services for your business deliveries, give UCS a call today on 08448 793 229.