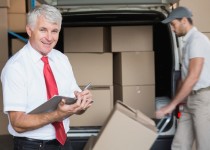 A trustworthy and reliable relationship with customers is crucial for business success. To maintain this relationship, businesses must ensure product quality and recruit skilled customer service representatives. What more can they do? One method that has proven to be beneficial is offering same day delivery on all orders.
From the companies that send domestic and commercial goods, all customers have this in common: they want a safe, timely and reliable delivery.
How Using A Same Day Courier Service Can Increase Productivity
According to experts, opting for a same day delivery service doesn't just benefit the customer but also the courier service provider. With traditional product transportation service, stock can sometime be piled-up ready to be delivered the next day. On the other hand, with same day delivery this isn't the case. Because same day delivery orders must go out on the day of the order, productivity increases as the time sensitivity allows for no buffer. Products must be appropriately prepared and delivered within the time frame of that day.
The Financial Benefits of Using a Courier Service to Improve Customer Care
Many companies have their own drivers to ensure a successful delivery, but the cost of maintaining an in-house delivery system is high compared to that of a professional courier service. While having your own delivery system is useful for transporting goods close to your local area. It is a different story when it comes to longer distance deliveries. Expenses can almost double the price of a same day delivery service from a professional courier service provider.
Third Party Same Day Delivery Can Simplify Inventory Management
Why not allow a company like UCS to guarantee the successful logistics of your assets from start to finish? In today's fast-paced world, same day delivery is quickly becoming a necessity and its benefits are increasing in value. With same day delivery, both consumer and company benefit from the peace of mind that the trusted courier will deliver the product safely and in a timely manner.
For more information on how UCS' same day delivery service could benefit your business please contact us on 084 4879 3229.