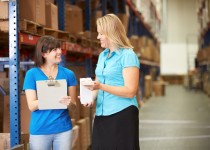 Supply chain management is ultimately a combination of achieving the best services and remaining as cost efficient as possible. In the process of trying to maintain this, there are a number of challenges that supply chain managers face. Logistics, training and a variety of other factors all have a bearing on how smoothly business logistics and deliveries operate. Here are 5 common challenges of supply chain management:
#1 – Minimising delivery costs
A large percentage of customers are familiar with placing orders online, and more sales are completed through websites than ever before. With so many businesses providing next-day delivery services, there's an expectation to offer this service, and to meet the fastest delivery times possible. A key limitation for your business achieving this is cost – some courier services demand high costs to deliver with efficiency, causing raised prices for customers and ultimately loss of sales. Choosing a logistics partner who will provide fast, secure services without compromising on price, is key to minimising delivery costs.
#2 – Guaranteeing secure delivery
When transporting expensive, heavy, or valuable items, it is essential for the delivery method to be completely secure. There is a risk during delivery that items can be stolen, tampered with or damaged – all of which will have significant costs for your company to fix, as well as causing customer dissatisfaction and tarnishing your brand reputation. Choosing a courier service that chooses to take responsibility for the safety of products will make a huge difference and avoid these problems. Be sure to find out if your logistics partner has a security policy, to see how this will improve and maintain your in-house security policies.
#3 – Fast delivery times
For commercial customers, one of the things they're going to be looking for you to provide is a speedy delivery, particularly where they require a fast turnaround on stock and resources that they need. Individual customers will also expect prompt delivery as a growing number of businesses are now offering express, next-day delivery services. This puts the pressure on you to provide the products as soon as possible, or risk losing out on potential sales. When making decisions to enhance your supply chain management, you'll need to ensure that the couriers you choose can provide next-day or even same-day delivery nationwide and fast delivery worldwide to cater to all of your customers.
#4 – Customer convenience
Customers have expectations and like to choose services based on what they're willing to pay and how long they want to wait. Allow your customer to feel in control of their purchase. Whether it's a bulk order or one individual customer, each recipient should receive the same level of service. One way of making your deliveries more convenient is to provide a choice of delivery options, at a variety of prices, to suit the required delivery time and budget of the customer. Some customers may be willing to pay extra for same-day delivery, whereas others might rather a cheaper option and be willing to wait for 5-7 working days. Instead of charging them a premium to make a faster delivery, allow them to choose the most convenient service for them. Giving your customer the freedom of choice will allow them to fit the delivery around their own personal requirements and encourage repeat business.
#5 – Clear communication
There's nothing more frustrating than having to stay in all day to receive a parcel. It can also be extremely inconvenient for you to have to redeliver parcels and store them when they are not received. It also increases the chance of parcels getting lost, incurring financial costs and leaving you with customers that are not satisfied with your services. You can solve this issue by choosing a logistics partner that will keep your customers informed about the stage of delivery, as well as informing them of a time to expect it. Communicating with your customer is key, and great customer service will reflect positively on your brand and create an enjoyable customer experience, and repeat business.
Find out more about how to provide the best services to your customers by giving UCS a call today on 08448 793 229.