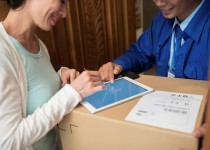 When you're starting up a new company, one thing to consider is the logistics of the business. This includes shipping methods and costs, as well as timescales and how you'll communicate with your customers. Logistics are central to the operations of your business and can leave you with happy or very dissatisfied customers depending on the delivery process. It is therefore important to have this process sorted from the outset and ensure good advice. Whether you're a start-up or an established business looking to review your logistics strategy, here are the three stages to making sure that your deliveries run smoothly.
Embrace technology
Software can make a huge difference for logistics, as it can automate tasks from payment to creating labels and generating order details. Technology allows businesses to track parcels and for customers to see the location of their order in real time. Logistics software allows for an easier overall process from start to finish, and speeds up the delivery time by eliminating time consuming manual tasks.
Employ reliable couriers
Once your in-house processes are outlined and setup, you'll also need to find couriers that are fast and trustworthy. Businesses must guarantee the security of packages before arrival, including in transit, in order to avoid unexpected costs such as refunds or repairs. Your couriers should have great customer service and people skills to make deliveries in a friendly manner that leaves a lasting positive impression of your brand.
Outsource your logistics
The most effective way to ensure that your logistics are taken care of is to outsource this to a specialist logistics company. UCS can offer 20 years of experience and a logistics solution that is tailor-made to suit your specific requirements. Whether you're shipping globally or locally, UCS can guarantee reliable couriers and fast delivery times at cost-effective prices, allowing you to focus on your in-house skills and products.
Find out how UCS can tailor a logistics strategy to your exact requirements by giving the team a call today on 08448 793 229.