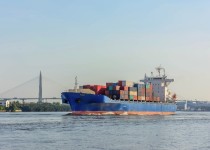 Different businesses require different types of delivery services. Whether your business is multinational, or you have the potential to deliver globally, knowing the type of transportation that suits your business best is extremely important. By choosing the right delivery options, you could ensure a smoother and more cost-effective operation.
There are three main methods of importing and exporting goods: via road, via air and via sea. But in most cases, a combination of these choices is necessary to ensure a high quality operation. When looking for the right delivery option for your business, you will be faced with one big decision, whether to handle the logistics in-house, or to outsource the responsibility.
Evaluate Your Business' International Transport Needs
To figure out the best transport option for your situation, you will first need to take into account all of the factors that will affect the products' journey. Such as the type of products, the destination country, your business' cost and speed requirements.
You will need to know the answers to questions such as: What will you be distributing? As size and weight will affect the cost. Will the transport costs affect your business' overheads? And if so, how? Where do the goods need to go? E.g. Europe has a large rail and inland waterway network, but if your delivery destination is remote, you may come across complications. What is the value of the goods being transported? Have you gotten the proper insurance quotes and which service is most secure? Another element that you will need to take into account is the time frame – when does the product need to arrive at its destination? This is important as it can significantly affect the cost of delivery. Finally what are the recipients' requirements? How, if at all, will they affect your product's delivery?
Road Transportation
Road transportation could be the most flexible choice for your business' international delivery requirements, particularly within Europe. Motorways allow easy access for couriers, and gaining access at national boarders tends to be a quick process.
There are many benefits of using the road to transport goods such as the relatively low costs and flexible transportation options to suit your needs. It is also possible to track the location of your goods to ensure completed delivery. You can also schedule next day delivery with ease.
Transporting via the road also has its risks. Travelling for long distances can take a considerably longer time than other alternatives. Traffic delays and break downs could also add to the ETA of the delivery. The risk of damage to the goods is higher, and toll charges could raise the cost too. Some countries' road and traffic regulations can differ significantly to the UK, so you'll need to find experienced couriers.
You could use a carrier or opt to use your own business' vehicles. By using your own business' vehicles, the licencing, fuel, driver training and regulations costs will fall under your onus.
Air Transportation
Transportation by air extends multiple advantages for international logistics, such as the speed of delivery. Air transportation can offer quick delivery times over long distances. By using air delivery you also have a higher level of security.
But as with anything else, air delivery also has its disadvantages. Air transport can incur considerably higher costs than its counterparts and not all goods are suitable to be transported by air. Fuel and currency surcharges are often added to freight costs. Deliveries will be directly affected by flight delays and cancellations, and further transportation is required to get from the airport to the final destination.
If you do opt for this choice make sure that the routes and timetables suit both yours and the recipient's requirements.
Sea Transportation
If your business requires bulk deliveries that are not time sensitive, shipping via the sea is the logical option. Other benefits of transporting goods by sea are that large deliveries can be consolidated to reduce costs. Shipping containers can also be easily conveyed onto trains for further transportation.
But again, sea transport has risks too. Shipping by sea can take a significantly longer time than other methods which can be increased further by bad weather. Routes and timetables tend to be fixed and unchanging. This method also requires further transportation from the port to final destination.
For help finding the right way for your business to transport goods, please don't hesitate to contact us on 084 4879 3229.