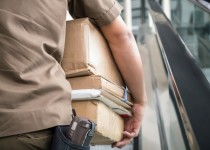 A fully-serviced, or flexible office, is the ultimate convenient office solution for organisations with a varying number of staff members and requirements. It allows companies to use anything from one desk to multiple offices and boardroom spaces, as well as amenities that may not be affordable if based in their own premises.
Companies based in fully serviced offices have a number of things that are pre-arranged for them, such as a specific company that is used for office supplies, or an IT provider for the building. A standard delivery service is often one of those things, and the courier company used is often determined by the company that owns the building.
Different requirements throughout the building
If you're a large company based in a serviced office containing a number of small businesses, or vice versa, your delivery requirements may not match those of the other businesses within your serviced building. The company in charge of the building won't necessarily be able to choose a courier company that suits the needs of all of the businesses based there. You could be paying an unnecessary premium for a courier service that fails to meet your requirements.
Don't compromise on your courier service
Despite the flexibility that fully serviced offices can provide, one thing your business can't afford to compromise on is providing the best courier services to ensure that products are delivered to customers efficiently. Choosing to arrange your own courier services outside of those offered to your serviced office can help you to guarantee the best delivery services.
A customer-centric approach
What do your customers need? Large office space owners will make decisions based on the overall requirements for the building, that don't match with the demands of your customers. Choosing a courier service independently will help you to cater for your bespoke customer demands, such as fast, same-day delivery, or guaranteed secure and signed-for deliveries.
Taking a customer-centric approach will achieve greater customer satisfaction. Choosing a courier service to best suit specific needs will also give businesses greater overall control with direct communication and tracking of each parcel, to help them resolve any issues easily.
Overseas and international deliveries
The courier services available through yout serviced office will differ in what it can offer – for example some may only provide local delivery, whereas others can provide international courier services with experienced and highly qualified couriers. "One size" definitely doesn't fit all when it comes to managing the logistics of your business.
Quality assurance
Sometimes the convenience of using the courier services provided by your serviced office building can lead to lower standards and lack of communication. With a trusted logistics partner like UCS, businesses can have peace of mind that their deliveries are being made securely and efficiently, as we provide the highest quality assurance.
If your business is based from a serviced office and you want to find out more about choosing a courier service to suit your needs, give UCS a call today on 08448 793 229.