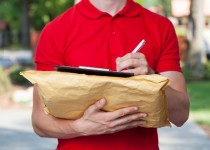 As a business that is required to send packages on a regular basis, you may wonder what the best delivery method is for your requirements. Although the Courier and Postal Services have similar roles, their jobs are carried out in extremely different ways. The postal service is largely favored for sending letters, but both services are used to send parcels. Courier services ensure that the delivery of your items is made to be affordable and simple, offering of a variety of facilities. Here are a few advantages of using a courier service:
Pick-Up Differences
When you send an item by mail, you have to package it up and then take it to the post office, not to mention, waiting in line and having the package measured and weighed. This is all added time. When using a courier service, the courier company will pick up the package from your business or home at your convenience.
A Faster and More Direct Service
When using a courier service, you can book a time slot to have your package delivered in advance, or get guaranteed next day delivery. Most courier distributions are very flexible and versatile to suit your requirements.
A Safer Service
These days, thanks to technology on the up rise, Courier services are more secure than ever. There are tracking tools that are provided by couriers to make it easier for the customer to monitor its whereabouts. The tracking device also tells the customer when to expect delivery so they can be available.
Competitive Pricing
Most Courier Services have dedicated customer services teams that are ready and waiting to assist you. They will be able to provide quotes and provide information about the services on offer. Courier services provide better value for money. Mail Services you do not get the some amount of control over your shipment which could cost you more long term.
Eco-Friendly Service
Courier Services can cut out the need for an item to go through a large network in order to get delivered. This will mean that shipment is delivered in the most eco-friendly way as the item isn't travelling all over the UK through depots and sort facilities. The mileage is kept to a minimum so be assured that they are putting in the work to save the planet as well as saving your valued time.
If you have packages or parcels to send and you want to make sure that they arrive safely and securely, it is wise to use a courier company. Find out more about how courier services could benefit your business by giving UCS a call today on 08448 793 229.