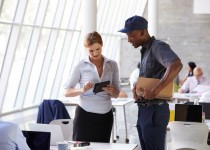 Often it's the case that businesses with multiple premises will have the same logistics partner for all of their delivery services, across the different locations. However, this is not always the most efficient or sensible option, despite the convenience of only needing to deal with one supplier. Your office location may experience far greater or fewer orders than your HQ, meaning that the costs and details can vary immensely.
Independent courier services
If you're frustrated with your head office's choice of courier services and they're not meeting your needs, then you have two choices – either persuade your head offices to change their overall supplier, or to arrange different courier services independently from those already in place. Sometimes your head office may free you to organise your own courier services, which may be more efficient in the long term.
What are your requirements?
Regardless of the number of deliveries to cater for, security and trust are imperative from your courier service, to give you peace of mind that your customers will always receive their orders as they should. Your courier should provide a guarantee and confirmation of each delivery.
Time frame is an important factor when it comes to what your courier can provide. Customers are becoming more and more accustomed to express, next-day and same-day delivery services, meaning that there is an expectation for you to be able to provide such a short turnaround from the point that the order is made.
A tailor-made logistics solution
The best solution for your deliveries may not require challenging your head office to change logistics partner – instead the improved customer experienced and increased sales that you experience will speak for themselves. Head office may be hesitant to change suppliers if their current arrangement suits them, but no one needs to compromise by partnering with a logistics partner that will provide a tailor-made solution across multiple locations.
UCS provides couriers for multiple location businesses, to cater to the unique needs of each premises. This includes both local and international deliveries, with different time requirements and to suit the demands of customers.
Find out more about couriers to suit your head office and other locations by giving UCS a call today on 08448 793229.