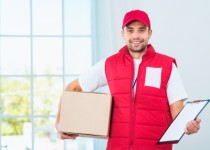 When it comes to commercial logistics, there is a myriad of mistakes that companies can make and unfortunately they often do. From choosing the wrong logistics provider, to opting to do it themselves, these mistakes can be avoided, if you know how. Here are five ways that your company can ensure successful delivery of your products to customers.
#1 Choosing The Right Service
The biggest and probably the most common mistake is choosing the wrong service for the delivery of you products. Nowadays many logistics companies offer delivery guarantees and the ability to track packages. But it is still down to the shipping managers to balance both customer service as well as the costs.
There are four main methods of transportation used by logistic providers, air transportation, sea transportation and road transportation. Whenever there is any uncertainty about which service to choose, some logistic providers say "trade up". Though this may benefit them, it could add unnecessary costs to the company. In cases where companies don't know which service would best serve them, it is wise to contact a trusted logistics service provider and, together, work out the right fit.
#2 Packaging Properly
Many companies encounter issues when it comes to packaging their products correctly. These issues can include packages unravelling, lost labelling and other avoidable problems. But there are three things to take into account when ensuring the best packaging for your company's product: the material of the package and what it contains, the environment through which the package will be transported, and the potential resizing of the package. Your logistics partner will be able to advise you about packaging your deliveries properly.
#3 Use The Available Resources
When searching for the right logistics service provider for your business, there are many useful resources that are available to use. Many logistics providers offer tools such as shipping system user manuals and user friendly FAQ pages on their websites.
Logistic providers such as UCS allow a 'search' function on their website giving users easy and direct access to exactly what they are looking for. Here you can find our list of shipping, billing options, package tracking and more.
UCS has 20 years of experience and a comprehensive range of services covering all modes of transportation. With a team dedicated to providing a quality, flexible and reliable delivery service, we listen to the client to offer a service around your specific needs.
For all of your business' logistics needs or advice about shipping and delivery options, our team will be happy to answer your questions. Just drop us a line or give us a call on 0844 879 3229.