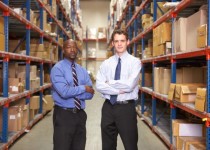 Many businesses rely on the delivery of goods for a successful service to their clients. In fact these days, with all of the many online sales platforms that are available, individuals are used to being able to select from a choice of delivery options. Vendors can sell their own products from the comfort of their home.
With such a diversity of sellers, it should come as no surprise that there are many different methods of delivery as well. There are some businesses that opt to have their own fleet of vans, which can serve them well for a time. However as the business expands and more deliveries are required, a logistics service provider is a more viable option to ensure that all deliveries run smoothly. Here is some advice to follow when considering a new logistics provider.
Logistic Companies Represent Your Business
Your choice of logistics partner may seem unconnected to other elements of your business, however this couldn't be further from the truth. When choosing your company's logistics service provider, it's important to take into account the fact that their couriers are going to be the face that your clients see first. As representatives of your business, every interaction with a customer, good or bad, has an influence on your business's reputation. If a client has a bad experience with your chosen logistics partner it could have negative ramifications on your brand. So it is important that when choosing your logistics partner, you chose a provider that you know you can trust.
How Do You Find The Right Logistics Provider For You?
There are many choices out there for road hauliers, couriers, national parcel delivery and freight service providers. How can your narrow down the right providers for your company? Here are some key points:
How Reliable Are They?
Make sure that the courier service provider that you choose for your business is a professional one. An indicator of this is their reputation. A dependable logistics company will tend to present you with proof of delivery (usually in document form) upon a request of one.
Can They Deliver On Time?
Many business' these days, offer same day delivery as a service. Offering express delivery can generate more sales.
Coverage
Your logistics partner may be able to deliver your business' product, but it is up to you to know your audience. If your business only delivers to the UK, then there is no point in selecting a global courier service. Opting for a smaller, UK based logistics partner could serve your business better. On the other hand, selecting a business that can accommodate both domestic and global delivery needs means that up-scaling won't be a problem. This is because; by having a logistics provider that offers UK as well as global deliveries, you'll have a standing relationship with a trusted logistics provider as your business expands.
With over 20 years of experience in the logistics and freight industry, our experts are waiting for your call, so for more information on what makes the best logistics partner for your business, please don't hesitate to call UCS Group on 0844 879 3229 today.