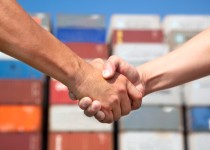 When you are setting up your business and looking for the right logistics service provider, there are many factors that will come into play. Though there are many good third party logistics service providers, they may not all be right for your business. We've created a third party logistics companies checklist to help you choose and qualify the right 3PL (third party logistics provider) for your company:
Clear and Effective Communication
The provider of the logistics service should set the precedent for what kind of service your business can expect. This is especially the case when the logistic service is outsourced to a third party. You should expect a reliable response to any issues that could arise and a successful resolution.
Solutions To Problems
Avoid logistics providers that tend to be reactionary. Your business' logistics service provider should not change their quality of service. As your business grows, changes will be inevitable, but the quality of service shouldn't diminish as a result.
Shared Aim And Mind Set
Logistics service providers will know about the best way to deliver your business' goods, due to their vast experience. But the right logistics service provider for your business will get to know your company's requirements and use their knowledge of the industry to align their goals with yours. It will then be the task of your business' logistics provider to inform every level of the chain involved what the concluded goals are and how they should be achieved. Doing this will increase team mentality and productivity, meaning an overall more efficient logistics service.
Storage Options
One question you will want to ask a potential logistics service provider is the locations for warehousing. You will need to know things like the size of the buildings, the amount of space available and the proximity to ports, airports railways and major highways. You'll also need to know if there is any space availability during busy / heavy shipping periods, the number of bay doors available, i.e. is there enough space to receive and ship 'x' amount of containers/ trailers on a daily basis and is there room for expansion?
Equipment Provided
Another important element of your business' partnership with a potential logistics service provider is the equipment that they have. Are the equipped to handle your business' needs? Do they have the right pallet racks, conveyors, flow racks, scanning stations and packing tables? You'll need to make sure that the potential logistics provider can offer your business the right carton sealing machines, label printers, shipping stations with scales, a value-added department with specialized equipment for your product, a forklift Preventative Maintenance (PM) Program and an assessorial process, i.e. labelling, banding, taping and assembly work, etc.
For more information on how to select the right logistics service provider for your business, please don't hesitate to get in touch with us on 0844 879 3229.