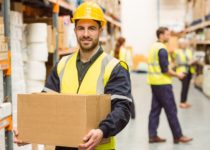 Businesses that understand how to optimise their supply chain management can make the process a whole lot more efficient. Building up a strong picture of your suppliers and relationships is essential to taking control of your supply chain. Here are 3 steps to taking this control for effective supply chain management:
#1 Balance engineering with business
Within your supply chain, different contacts will communicate in different ways. For some, they will understand the engineering side, whereas others will focus on the business side to operations. Engineering encompasses the logistical elements of the supply chain such as costs and transportation, compared to business which includes coordinating and planning activities to meet supply with demand, like inventory costs and lost sales.
When using metrics to measure performance of the supply chain, it's imperative to take a holistic approach to your supply chain management which accounts for both of these areas, as this will improve overall communication. It will help those working within each element to maximise efficiency in all areas to reduce costs and improve productivity.
#2 Investing in strong agreements
Strong agreements with suppliers that are clear can help to ensure that there is always enough supply to meet demand. Continuous revisions of agreements can help to maintain this understanding as demand grows and business scales up. As a result, you can measure your warehousing requirements at the same time, and scale this up and down to your current requirements. This gives you the ability to offer the best services to your own customers. Spending time working on these relationships and building direct points of contact with your suppliers can make the whole supply chain management much easier and allow any issues to be resolved quickly and easily.
#3 Experienced supply chain managers
You will get the best from your supply chain when you hand over control to experienced supply chain managers, who have a great understanding and wealth of experience with suppliers and contractors for a variety of products and services.
UCS' team can act as your outsourced supply chain managers, inclusive of warehousing requirements if you need flexible space. Our service is bespoke to each of our customers to meet their specific needs, and UCS comply and are regularly audited in conjunction with ISO90001 standards to give our customers the best possible services.
Find out more by giving UCS a call today on 08448 793229.