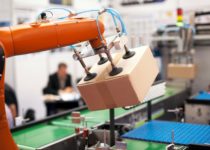 Robot technology is an area where awareness is growing, and there is a lot of speculation about how it could gradually begin to influence everyday life. Many films depict use of robots as normality in the future, but is this accurate and how could it affect the way that you do your warehousing and stock management?
What do robots have to offer?
Robot technology is being developed with the idea of increasing working efficiency and reducing human error. In many cases, machines reading the labels of parcels can enable them to automatically distributed to the correct part of the warehouse without error. However, there are some areas of warehousing and delivery that cannot be completed to a sufficient level with robots.
Customer service requirements
Even with advancing robot technology and automation, there is no match for personal customer service. Speaking with someone personally is especially important for providing the highest level of customer services, since it is often more helpful and customers are able to ask specific questions that may not be answerable through an automated website platform or telephone menu.
Valuing your customers
If there are any unexpected delays, email notifications or text messages are enough to inform your customers but don't provide detailed information, nor does it provide a helpful and friendly approach. Someone giving customers a call to keep them regularly informed can make all the difference and ensure that customers always feel valued. This simply isn't possible to achieve to the same level of personalisation and specific assistance using machinery.
The personal touch
There is no doubt that technology has an important role to play in the advance of warehousing and distribution, however its role will never replace the personal touch. Often customer enquiries require a real person to answer queries or give a friendly approach, which is why customer services cannot be completely computerised if you want to ensure you have the most satisfied customers.
Despite the advantages that robot technology could bring to the warehousing and logistics side of business, there are some areas which benefit more strongly from people working closely with customers to ensure complete communication and strong relationships are built.
UCS pride ourselves on the fact that our professional team always maintains high levels of communication and transparency so that your customers receive their orders on time, in perfect condition and enjoy a positive experience that reflects highly on your brand.
For more information about our services or to discuss your requirements, give UCS a call today on 08448 793229.