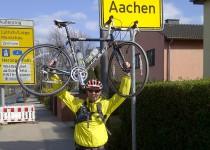 Hi All,
As many of you will now know, this year for charity Andy took on two challenges to raise money for Edukid; a 200 mile bike ride through four countries in three days and Tough Mudder.
Over the Easter break Andy completed the bike ride (see attached photo – not my best, but I had just ridden 80 miles that day!).
Next up on May 12th is the somewhat daunting Tough Mudder, a 12 mile mud race design by British Special Forces which will see me encounter 25 army assault obstacles during the course of the event.
Following a hamstring strain only days prior to the bike ride Andy now has to re-build his running distance again which is proving challenging and requires all the motivation and support people can provide especially as he only has just under a month to go!
"A huge thank you to everyone who has already provided sponsorship or promised to – it really helps to motivate me to get out, hit the pavements and train down the gym.
Anyone still wishing to sponsor me can do so by visiting my Virgin Giving page, it's really quick and simple.  Likewise it's always great to hear people wishing me good luck or even telling me how mad I am (the latter seems to happen more!) so friends and family pick up that phone!"