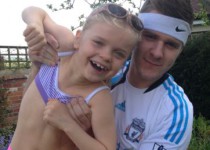 James Hall UCS Business Development Manager has committed to completing the Great Ormond Street Hospital Fun run.
James sister Claudia has been treated at the Great Ormond Street Hospital for the last 5 years and the excellent care and support has given Claudia opportunities we all take for granted. Claudia is living a joyful life and has a very bright future pursuing her dreams with her talents in acting and playing musical instruments.
GOSH Info:
Every year we need to raise over £50 million to help replace cramped wards with new modern facilities, provide essential equipment and fund essential research to find treatments and cures for complex and difficult illnesses. With your support amazing things happen at Great Ormond Street Hospital.
If anyone could donate a small amount to help James on quest to fund raising that will be great!
Link:
my.raceforthekids.co.uk
Event info:
www.gosh.org
James has a target of an optimistic £1500 but let's see how he can get!