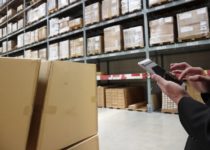 The way that inventory is managed can have wide reaching impact right across the business. From affecting relationships with suppliers to providing the foundation for positive financial performance, stock management lays the groundwork for multiple other elements of success. For many businesses, stock control software is the only way to ensure that inventory management is as efficient and well handled as it can possibly be.
7 reasons to use stock control software for better inventory management
Improving your business cash flow
Stock control software enables your processes to be more efficient and allows wasted resources to be reduced. With higher inventory turnover and more oversight on your stock you will be able to free up cash flow that can be invested to add value elsewhere.
Generating more customer satisfaction
Inventory management has a big role to play in what your business achieves in terms of customer service. With stock control software you'll be able to ensure that you always have the right level of stock to meet orders and that the stock can be found and dispatched in a timely way. The end result is that customers' expectations are met and satisfaction levels and loyalty can be improved.
Eliminating the stock that is slowing you down
The use of this type of software provides the opportunity to have oversight on how inventory moves and what this means for the rest of the business. For example, you can look for slow moving stock and focus on finding ways to get rid of this stock more quickly.
Better informed planning and strategy
The perspective that stock control software provides when it comes to inventory management can be fed into strategic decision making right across the business. For example, you will be able to identify your seasonal products and to understand how and when they are likely to move best. This kind of information can be crucial when it comes to planning and making decisions about inventory, when to order it and how to manage it.
Improving the profitability of your inventory storage space
Stock control software provides in-depth insight into your inventory, the way this changes and the effectiveness of how you're currently managing it. With a few small amendments to the way you use the space available for inventory you can optimise it to ensure that you're getting more profit per square metre of storage space.
Managing ancillary costs
When you're more in control of inventory management this has a knock on effect in terms of reducing other costs too. So, for example, you can reduce the costs that might have previously arisen from the need to make emergency stock purchases.
Ensuring complete control over your inventory
From stock locations to inputs and outputs, with stock management software you are completely in control.
Stock control software has an essential part to play in overall inventory management and can help to introduce efficiencies and make it easier to plan and prepare for the future of the business.  Get in touch with UCS today to find out more.