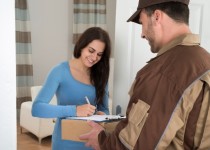 Many businesses avoid a courier service on the basis of cost. However, not only is this a false economy in terms of the problems that can arise with lost items or a lack of professionalism when not using a courier, it can actually work out cheaper to use a courier service to deliver to your customers. So, if you're looking for a way to improve cost effectiveness, as well as brand loyalty, a courier service could be the ideal solution.
Why use a courier?
A 24-7 service
Many postal services tend to be restricted to office hours and won't be available at weekends. When you're working with a courier, the service is available 24-7 and seven days a week, giving you many more options when it comes to delivering to your customers.
Stress-free last minute shipping
Working with a courier service means having access to a wide range of different delivery options so that your customers always get what they need, when they need it. From economy and budget deliveries through to next day and same day shipping, there are multiple options. Even last minute deliveries are easy to arrange and reliable in terms of service.
A cheaper option
There are a number of different elements to consider when it comes to cost. More accountable, traceable delivery means you're less likely to have to dedicate resources to dealing with irate customers or to have to cover the cost of replacement items if some inexplicably go missing. You may also find that couriers charge on the basis of distance, which means they can actually be a much cheaper option for bigger or heavier items. If you're sending a large number of items with one courier you may also benefit from volume discounts that can significantly reduce the cost to you.
Pick up and drop off
Couriers also offer the advantage of a direct pick up. This can be especially advantageous where there are time constraints to the delivery. There is no need to stand in line and wait at a Post Office, for example. Instead, the item is collected direct from you and shipped straight to the customer. This can increase the speed of service and delivery, making it much easier to meet – and exceed – customer expectations.
Tracking in real time
Most courier services offer real time tracking, which provides peace of mind when it comes to deliveries. Both you and the customer will be able to see where the package is, reducing the potential for disputes and improving customer satisfaction.
Professional, reliable service
Couriers are very accountable and have strict professionalism policies and codes of conduct in place to ensure they maintain certain standards. Reputations are built on being able to deliver a reliable service and so this is a top priority. Courier firms also know that reliability is a key concern for customers and so look to deliver on promises made, every time.
If you'd like to find out more about why a courier service could be a great option for your business, please get in touch.