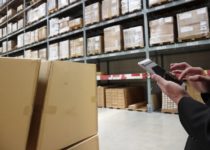 Inventory management provides crucial oversight. When successfully handled it will deliver an accurate view of what you have in your warehouse, as well as the location of all your stock. Inventory management is crucial for the smooth running of the business, from financial reporting through to meeting customer needs. It can be well done manually but to really optimise your inventory management, software that integrates inventory with back office systems is a necessary upgrade.
What is inventory management software?
Inventory management software achieves a bridge between inventory and back-office and accounting systems. It contributes to improving competitive edge in a number of ways, including enabling more effective planning and reducing the time and money spent on manual reconciliation between inventory and back office systems. Bespoke inventory management software can be crucial to ensuring that there is a smooth and effective link with back office and accounting systems. Integration between the two is not always straightforward but bespoke inventory management software is designed to ensure that everything fits.
The benefits of bespoke inventory management software
There are a number of benefits from using bespoke inventory management software, including the following:
A more transparent supply chain
Ensuring visibility for supply chain partners takes management to a whole new level. Bespoke inventory management software can be designed so that it not only integrates with your business' back office functions but also with supplier systems, as well as third party logistics systems. This provides continuity throughout the supply chain and delivers a better experience for customers and a more efficient structure that requires less manual management. For example, suppliers can see when stock levels change and ensure that their items are restocked with you so that customers never miss out.
Balancing inventory concerns
The balance of inventory for most businesses is ensuring that you have fresh product available to meet the customer's needs while also avoiding a situation in which stock is sitting unused in a supply chain and incurring warehousing charges. Inventory planning is a crucial balancing skill that is difficult to achieve without visibility over inventory. If you're looking to optimise the way inventory is currently handled in your supply chain then bespoke inventory management software links up key components, such as sales order, purchase order and planning systems to achieve the perfect balance.
High quality financial reporting
The accuracy of your business' annual reports and tax returns depends on the quality of the information that you have available when the time comes to complete them. Bespoke inventory management software provides the crucial link between the physical inventory and the business accounts so that the numbers that appear in your accounting always match up with the physical assets in your warehouse.
Bespoke inventory management software helps to optimise inventory handling and provide more accurate oversight of stock and accounting. It should be real time, scalable and reconcilable so that it can grow with your business and provide instant perspective on your business.
At UCS we offer a range of stock control solutions – contact us to discuss your business' needs today.