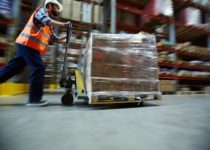 A successful supply chain provides a strong core to a customer facing business. However, establishing one takes a lot of work if you're not sure where to begin. What makes this easier is that supply chains across virtually every industry can benefit from a structure that follows the same five key steps.
1. The planning stage
This will involve making decisions such as whether to manufacture products or component parts in-house or to source these from suppliers. There are many different elements here, including whether to manufacture domestically or internationally and whether to source domestically or internationally. It will also be crucial to decide how the products will be created – will they be made to order, for example, or made to stock so that they are awaiting customer orders? Planning will also involve oversight of manufacturing facilities and warehouses, how much each can produce and the logistics involved in transport between sites.
2. The suppliers
Identifying potential suppliers, researching and vetting them, as well as assessing performance, are all key components in a successful supply chain. Central to this will be finding the right suppliers to work with and then negotiating contracts with those suppliers, as well as schedules for delivery that work with the planning workflows already produced.
3. Managing manufacturing
The third step in a successful supply chain is the process of physically making the products. Decision making here revolves around where production activities are going to take place and how they will need to be scheduled. Product testing may also be a factor to bear in mind, as well as how each one is going to be packed and released.
4. Logistics
Once you have reach the stage of a supply chain that can produce a completed product, the next step is getting that product to the customer. Warehousing considerations may need to be examined here, as well as the management of inventory – are these processes that can be handled by the business on its premises or will they need to be outsourced to a third party supplier? Other factors that contribute to successful supply chain logistics include:
Choosing between different transportation options
Establishing a distribution strategy
Customer service – dealing with contact and enquiries about deliveries
Invoicing and payments
Trial periods or warranties that affect the product
The relevant import and export requirements for the products if they are to be shipped overseas or imported from outside the UK
5. Handling returns
This is a stage often missed out by those designing and managing supply chains. You may start from the assumption that returns will be minimal or easy to handle but the reality is that some sectors can generate up to 50% returns. So, it's important to have solid returns handling in place. This will include receiving returns, authorising refunds, checking defects and condition, arranging replacements and managing the inventory for returned products. It will also be important to have a way to monitor returns performance and cost.
At UCS we are able to offer support to improve the performance and design of your supply chain – contact us to find out more.