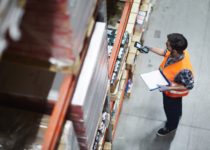 Warehousing operations are the heart of any business. From managing stock levels through to picking and packing items, a large part of the supply chain that delivers exceptional service to customers happens here. Despite this, for many businesses, warehousing operations are something of an Achilles heel and can be the cause of many a complaint or issue, usually as a result of inaccuracy or inefficiency. So, how can you streamline your warehousing to ensure that it does a better job?
Ask your team where improvements could be made
It's the people on the ground in the warehouse who will see on a daily basis where the issues are. They will probably also have formulated their own opinions on likely solutions and fixes that could make this part of the supply chain function better. So, before you start investing in expensive consultants, simply ask the people who work in the warehouse day-to-day.
Optimise your use of the warehouse space
Warehouses are expensive and a waste of space in a warehouse is a waste of valuable resources. Planning the way you will use the space in your warehouse is a key part of the streamlining process. How can you get the best possible use from the space you have? This may involve reevaluating where you place stock, how stock is organised and what functions take place in which areas of the warehouse. Clear out clutter and old stock and then make a plan for your warehouse that incorporates insights on most popular items and feedback from staff on how processes are impacted by the space.
Make your processes transparent
What are the processes that take place within the warehouse, do they ever deviate and what steps does each involve? A documented workflow is essential for an efficient warehouse. Not only will it highlight where processes are overly complex or have too many steps but it will also ensure that staff know what the standard processes are. With a clear and transparent process document you can reduce the mistakes that staff make, improve efficiency and enable people who work in your warehouse to be more confident in their roles
Introduce quality control
High standards are essential to streamlining and the only way to ensure these are consistently met is through quality control. A quality control (ISO 9000) or quality management (ISO 9001) system will have an essential role to play in ensuring you're using the best possible processes for your intended outcomes.
Invest in inventory or order management software
But make sure that you get software that will support your warehouse processes and not make them more complex or difficult to understand. The right software will offer features such as mobile scanning and integration with your logistics partners – take the time to find software that delivers real efficiency benefits without compromise.
Warehousing can be expensive and time consuming – and there is another way. Sometimes the best option for streamlining this part of the business is to outsource your warehousing needs to an efficient and experienced partner such as UCS.