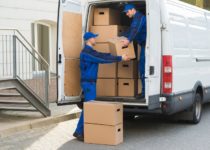 The organisation and infrastructure that is required to ensure business delivery needs are met can feel like a very heavy burden when handled in-house. From hiring and managing staff, to maintaining a vehicle fleet and overseeing logistics, the time and cost commitment is immense. For any business looking for a more efficient approach to delivery, and particularly for smaller enterprises, outsourcing delivery requirements makes a lot of sense.
Flexible customer-centric delivery
Delivery solutions need to put the customer first but also provide the kind of flexibility that means delivery is a useful resource, as opposed to another task to manage. Outsourcing delivery meets both of these needs, providing a reliable service with a range of choices for customers that can also be tailored to business requirements. In particular for those business looking for improved performance with respect to delivery, outsourcing can be a simple and swift way to deliver this.
Improving customer service and support
Outside of the delivery itself there are many other elements involved in ensuring successful customer service and support. Consumers today expect to be able to get swift responses to queries and to be kept in the loop. An individual organisation may simply not have the resources to do this in a way that meets customer expectations. However, when delivery is outsourced this provides access to a range of tools to improve customer support experience, from tracking and notifications through to the provider's industry experience in anticipating customer needs.
Streamlining cost and time commitments
The most obvious benefit to outsourcing delivery requirements is that this removes the need to maintain vehicles and staff in-house for delivery. Instead, a third party provider can be used, as and when required, with all of the cost burden of vehicle maintenance and ensuring drivers are available on demand falling to the service provider and not the business. The entire process of logistics – and responsibility for delivery – is shifted from the business to the provider, which can remove a significant administrative and cost burden and leave the business free to focus on other value adding operations. The reality is that, unless delivery and logistics is the core of your business, then it should be a highly effective support function and this is often best – and most cost effectively – delivered by a third party.
Optimising operations
If you're managing deliveries and schedules in-house this can be frustrating and time consuming, sometimes even negatively affecting the business' core functions. Outsourcing enables the entire process of scheduling to be handled by an experienced third party provider instead. The result is a significant improvement in the service that your customers receive. From faster delivery times, to reduced customs hold ups, improved authentication speeds and swifter turnaround times, the benefits of outsourcing delivery to a third party provider can have a positive knock on effect right across wider business operations.
We offer outsourced services that are designed to support your business in reaping all the benefits of third party delivery. Contact UCS today to find out more.