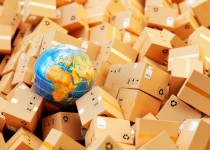 Global shipping can be complex and pose some difficulties, particularly for businesses that are new to international deliveries and branching out globally. In amongst these problems, here are the top 5 concerns for businesses shipping globally:
#1 Fast and accurate deliveries
Many customers will have been in the position where they order something internationally, and have to wait a significant time before it arrives. This can amount to weeks or even months depending on the supplier, which is enough to deter some customers from buying products from companies worldwide. As well as this, estimating an accurate delivery time is just as important – there as inconvenient as not knowing when to expect a delivery. Using a reliable global logistics partner allows companies to provide accurate delivery dates and also guarantees the successful and secure delivery of every parcel.
#2 Security concerns
Delivering items across such large distances doesn't come without its security risks. The more stages of the delivery, and the more people involved in the process, then the higher the risk of the parcel being interfered with, damaged or stolen. This can evoke huge replacement costs and customer dissatisfaction, so it's essential that parcels are secure throughout the delivery timeline. UCS know that security is one of the top concerns for businesses, which is why we employ only the best couriers, and use trusted partners worldwide to ensure that each package is protected from dispatch to delivery.
#3 Customer impressions and satisfaction
Customer satisfaction brings in future business, so it's important that your international customers receive a service that is just as high quality as your national and local customers. This requires efficient deliveries, great communication and a lasting good impression. From the timely delivery, to fair postage charges, high quality packaging and friendly courier, it's vital that you operate a highly professional service internationally to retain and grow your global customer base.
#4 Meeting customer requirements
Customers' demands are constantly changing, and may vary at an international level. More companies are now providing real time tracking for orders that have been placed, which is something that customers are now growing to expect. Being able to provide this service keeps businesses competitive in their industry. Other customers will value fast postage options, particularly if they require their order quickly – offering a fast-tracked service could result in your business gaining the customer over your competitors.
#5 Infrastructure and existing partnerships
The largest cost involved in global shipping for businesses is the cost of transportation. For small businesses, it's unlikely that they'll have existing partnerships or an infrastructure in place to direct different orders to specific locations around the world. Companies must find cost-effective ways of using established setups to enable them to deliver worldwide in a cheap and reliable way.
Businesses looking to ship internationally can solve this problem by using a logistics partner like UCS, who can complete the deliveries on their behalf. They will benefit from using already well-established shipping routes and methods, and reduce costs since they will consolidate shipments with others in order to reduce the overall cost.
Find out more about global shipping services and discuss your requirements by giving one of the UCS team a call today on 08448 793229.