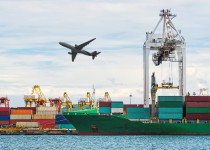 As a company selling products, whether it's clothes, food items or specialist goods, it's imperative that you're able to deliver to a wide range of locations. The greater the national and international customer reach that you have, the more sales you are likely to make.
What are your products?
The products that you're shipping impact the options you have available for international shipping. The size, shape, weight and commodity of the shipment will determine suitable shipping methods available and therefore the cost. Some international policies and service limitations restrict the delivery of certain products including foods and perfumes. It is important to bear this in mind, as well as the additional cost of protecting fragile products whilst in transit.
Trusting your shipping partner or courier
Your shipping partner is ultimately representing your company. The delivery service that they provide should reflect the high standards that you maintain within your own company, and ensure that deliveries arrive in perfect condition, and on time. The shipping partner that you choose has the ability to promote a strong brand image for you, or to decrease customer satisfaction, so it's vital that the provider you choose is trustworthy and will provide the highest standards of service at all times. Your reputation is on the line depending on the courier service that you choose, and when you're shipping internationally, this can affect a very large number of customers and their impression of your business.
Speed of delivery
Some of your customers will expect fast delivery times, such as next day, compared to others who would rather pay less and are happy to wait a few days for the delivery to be made. Therefore, you must choose an international shipping partner that has the ability to make fast deliveries, in the shortest possible timeframe. They will have already established contacts globally, and particularly where your target customers are.
Tracking and customer convenience
Many customers will now expect tracking services as part of their order. This way they can check where their parcel is at all times and when to expect it. Regular updates via phone, text message or email are the norm, and your customers will be used to being kept up to date with their orders. This makes the whole process much easier for your customers.
How will your order-to-shipping process work?
How will your system work when an order is placed? It's vital that this is efficient as it can be in order to ensure the fastest shipping and delivery times possible, and guarantee happy customers. Satisfied customers are much more likely to make future orders too, so offering speedy delivery times and a tracked process with updates is essential to enhance your brand's global reputation. UCS offers a wide range of international delivery services to meet the requirements of our different customers.
Find out more about international shipping and delivery by giving UCS a call today on +44(0) 8448 793229.