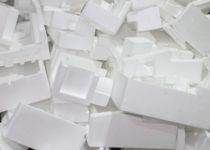 Thanks to factors like technology, social media and the internet consumers have more power than has ever been the case before. Today, every brand needs to listen to what its customers think and feel when it comes to products and services. The same, too, is true of packing. Never before have customer expectation had more of an impact on changing global packaging trends.
Customers increasingly want to avoid waste
In 2015, 167kg of packaging waste was generated in the EU-28- per inhabitant. Statistics about waste – in particular when it comes to packaging – are frequently in the news and this has generated much more consumer awareness about how much packaging is too much. Retailers are beginning to realise that customers are making buying choices based on how much packaging that choice is going to generate – and that the wrong kind of packaging could have an impact on customer loyalty.
Brands are expected to be increasingly innovative
Today, there are some great examples of businesses, logistics companies and retailers that have developed innovative solutions to packaging problems – including using too much. This has set a standard that many consumers now expect other companies to follow in finding ever new and more innovative ways to transport goods quickly and safely in packaging that is more environmentally friendly and innovative.
The driving force of ecommerce
Packaging has a crucial role to play in ecommerce and the ecommerce market grows by the day – in fact, it is forecast to reach $4 trillion globally by 2020. This will give the ecommerce market a 15% share of global retail sales according to eMarketer. The influence of ecommerce is changing customer expectations when it comes to packaging in a number of ways. Consumers expect to be able to buy anything online and for it to arrive safely and in good condition. They also expect to pay less, meaning that dimensions and specifications have to be suited to the most cost effective shipping. Plus, many customers expect a magic moment when they open an ecommerce parcel to find that their order has been packaged up in a unique, inspiring or innovative way.
The move away from plastics
The use of plastic in packaging is a hot topic right now. By 2050, according to the Ellen MacArthur Foundation, there will be more plastic in the sea than fish. This kind of shocking statistic has moved many consumers to proactively look for brands that are not using plastic packaging – and with some urgency. Customers expect the brands they buy from to offer eco options when it comes to shipping packaging, from swapping plastic packing peanuts for popcorn, to finding alternatives to plastic mailer bags. As a result, we are seeing increasing numbers of businesses looking at more environmentally friendly alternatives to traditional plastic packaging choices.
If you're looking to do better when it comes to customer logistics expectations we can help – contact UCS today to find out more about how our global shipping could benefit your enterprise.