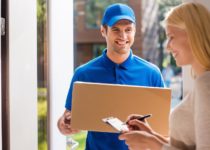 Over the recent years, the effects of climate change have become more apparent and businesses everywhere are beginning to recognise their responsibility and are updating their corporate social responsibility policy accordingly. But how is it possible to minimise the environmental impact of deliveries? This is something that will affect every order that is made, and could have a huge energy saving throughout your business if carefully considered.
Minimising consumption of resources and raw materials
Using raw materials more efficiently not only brings cost savings, but is also key to bringing about environmental benefits to your business. Doing this could look like review your production process, particularly transportation and warehousing. Are you storing and handling raw materials effectively? If you fail to empty all bags and containers properly, this could lead to a significant amount of waste.
Minimising emissions and energy consumption
If you're striving to be more environmentally conscious, energy efficiency should be of top priority to you. There are many ways you can reduce energy usage, to name a few, assess your warehouse heating usage, and set a central thermostat to conserve energy. Use only the space that you need. It can be difficult to find a warehouse that provides the exact space requirement that you need as your stock changes over time, but outsourcing your warehousing needs enables you to utilise warehouse space that shares costs and energy consumption, whilst only using the resources needed at any given time.
Minimise waste
Did you know waste that ends up in landfill produces methane, which is a greenhouse gas? Meaning you need to know what waste can be recycled and what waste isn't necessary for your operations. Minimising emissions from waste could be through the use of a recycling scheme. Are you able to reduce packaging for your orders? One third of the waste in developed countries comes from packaging – which is why more and more companies are choosing to explore greener options such as cardboard or recycled plastics.
Use like-minded suppliers
A large percentage of some organisations carbon footprint comes from their supply chain. Your goods technically come with their own carbon emission, from production, transport, use and disposal. Reduce your carbon footprint by implementing sustainable procurement principles, have you actually tracked where your goods have come from, why not try working and purchasing from eco-label products?
At UCS we aim to do all this to ensure we leave the best environmental impact we possible could. We do this by complying with and exceeding all relevant environmental legislation, implementing a system to monitor and measure our impact on the environment and monitoring and reporting on our progress.
Why not use UCS as the delivery service for your company, and ensure you leave your best environmental impact too? Find out more about our services by heading over to our website or calling a member of our team on  08448 793 229.