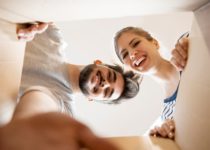 Customer satisfaction is important all year round but it can be a tough one to achieve in January when everyone is feeling the start of year blues. Although we've passed 'Blue Monday' (officially the most depressing day of the year), there's no doubt that spirits are still quite low. And, when you add into that the fact that many people might be facing the prospect of returning lots of unwanted Christmas gifts, tightening belts and working out how to pay off festive spending, there are lots of reasons why your customers might not be in the best place right now. So, how can you help?
Make returns simple and fast
There could be any number of reasons why returns are being made at this time of year, from unwise sale purchases to those gifts that aren't wanted or don't work. If your returns process is simple and fast then that's one headache that your customers won't have to deal with. It's worth bearing in mind that there are some rules to take into account if those returns are coming back to you via Amazon Marketplace – any gift wrapping service that was paid for won't be refunded, for example. There are also limits on the timescales for returns – for items sold by third party sellers and fulfilled by major online retailers, for example, customers have until 31 January 2018 to make the return. Simplify the process of returns and give your customers something to smile about.
Keep channels of communication open
There's nothing more frustrating for customers who are trying to complete a task like returns than not being able to do it because you lack the information on what needs to be done. Bear this in mind when assessing the way you present returns (and delivery) information on your website, for example – is this easy to find? Does it make clear what the process is? Can customers tell straight away whether there is any charge and how much that is? It's often worth reviewing returns policies at this time of year – as well as delivery information – and adjusting them to provide a simplified version. You might also want to consider using social media to get the message out.
Provide advice on packaging
When it comes to returns, the packaging used can have a significant impact on the outcome of the return. A return that won't be refunded due to damage in transit as a result of poor packaging isn't going to make your customers very happy at this time of year. So, provide some support and assistance when it comes to the packaging part of the process – no matter how good the carrier, items need to be protected with bubble wrap or another cushioning material, preferably boxed up and then securely sealed.
When it comes to logistics there are lots of ways that you can make your customers smile this January – contact us to find out more about how our services could help to do just that.