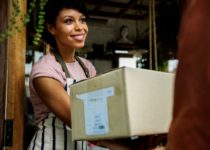 As ecommerce becomes a dominant delivery trend, the range of shipping and courier services available is necessarily diversifying. However, while some customers continue to look for cost effective delivery over any other factor, the burgeoning trend is now towards courier and express deliveries. According to Mintel's Courier and Express Delivery UK 2017 report, the courier and express delivery market saw a £1 billion increase in sales in 2016. In the UK alone these services attracted more than £10 billion in sales. But what is it about courier services and express deliveries that make them so popular?
The growth in online shopping
We are increasingly becoming a global community of online shoppers. In the UK the value of ecommerce sales was recently identified as around £533 billion a year. This is a market that is growing at an extremely fast pace and shows no signs of slowing down. The consequence of this for retailers is that consumers are now much more savvy about online shopping and have much higher expectations. They may be ordering more and so expect expedited delivery as a result.
The experience of consumers
Roughly 90% of consumers have bought at least one product online in the last year. Some of these consumers may have experienced the frustration of waiting a long time for that item. Others may have realised how much easier life would have been with faster delivery. Customers' experiences of online shopping are increasingly driving preferences for shipping that is faster and more reliable.
The craving for convenience
The value of next day deliveries in the UK almost doubled between 2012 and 2016, rising from £3.1 billion to £5.5 billion. This shows a clear indication that British shoppers are keen to get their items as soon as possible – and that next day delivery is becoming a bit of a benchmark. Convenience saves people time, enables them to order at the last minute and accommodates busy lives. Ultimately, express services make it easier for customers to get what they want, when they want it, without having to rearrange their own lives around someone else's rules.
Ongoing digitisation
Online shopping is increasingly taking more and more profit out of the high street. However, while there may be numerous benefits to ecommerce, customers must still wait for purchases. The desire to own the item purchased as soon as the purchase has been made is a hangover from high street shopping that is driving the trend for faster delivery services. Customers want their purchases in their hands as soon as they have been ordered. The value of same day deliveries, for example, rose to £1 billion in 2016 – up from £488 million just four years before. So, there is an increasing impatience for online stores to be able to replicate that high street instant purchase hit.
The trend towards courier services and express delivery is likely to grow further in 2018 – if you'd like to transition to being better able to accommodate this customer demand UCS can help you do it. Give the UCS team a call today on 08448 793229.