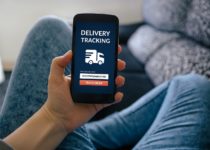 Last-mile delivery – i.e. the movement of goods from the stage of fulfillment to final destination – has seen a lot of disruption over the past 12 months. Rising demand from customers for deliveries that are both faster and less expensive, as well as the increase in online purchasing, have forced the fulfillment and logistics sectors to evolve at a blistering pace. In 2017 there were some specific delivery trends that stood out.
Smart technology, tracking and sensors
Customer expectations are now pretty high when it comes to delivery visibility. From tracking with every shipment, to sensors that provide real time data on temperature sensitive deliveries, smart technology is a burgeoning trend thanks to the control that it puts in the hands of the customers.
Upselling during delivery
Although this is still a fairly embryonic trend, many believe it has a lot of potential. It works on the same basis as online retailers making suggestions for additional products at checkout – however, it's the delivery partner doing it in this scenario. The thinking behind upselling during delivery is that there is a lot of potential to earn with small additional side orders purchased.
Traceability and proof of delivery
Technology is allowing the delivery process to be far more transparent. Now, in addition to be able to track where a shipment is, customers can drill down into much more detail when it comes to tracing product shipping origin. The application of GPS to the process has opened up delivery so that traceability data is available at all times and not just if an item has been lost.
Start-ups and disruptors
One of the biggest delivery trends from 2017 was disruptive change. The fulfillment sector is attracting a broad swathe of investment right now from venture capitalists and investors looking to back the next big thing. Innovating the way that orders are processed and delivered to make it more cost effective and efficient is increasingly popular – you only need to look at the vast number of crowdfunding projects arising in this sector for evidence of that.
Same day and next day delivery
Older generations tend to be happier with longer delivery times. However, Millennials in particular are much more inclined to make a purchase where there is the option of same day or next day delivery. As a result, super fast shipping options became not just a "nice to have" but a bone fide delivery trend in 2017.
Urban warehouses
The increasing popularity of super fast delivery options has meant something of a rethink for warehouse locations. Innovative online retailers are offering same day delivery within hours of purchase. This is a big difference to mainstream retailers, many of whom are still limited to a next day delivery service. Urban warehouses are the only way that this new shipping timing can be achieved and so further investment in urban spaces was a delivery trend from 2017 that is likely to continue into the New Year.
UCS offers a range of fast and competitively priced delivery and logistics services via our extensive international delivery networks. From real time stock data, to fast shipping we can provide solutions fit for the evolving business world. Get in touch today to find out how we could help you improve your delivery services this year on 08448 793229.