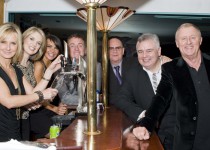 Celebrities and residents joined forces at a charity curry party to raise money for the James Whale Fund for Kidney Cancer on Tuesday 19thOctober.
The bash at restaurant Le Raj, in Epsom Downs, was attended by names such as Chris Tarrant, Eamonn Holmes, Shane Richie and James Whale himself.
Mr Tarrant led the auction of several items, including a dinner for four at Peter Stringfellow's club which went for £1,000, to help raise money for the radio presenter's charity.
Enam Ali, owner of Le Raj, said: "I am very happy to be able to host a party for such an important cause. James is a friend who had cancer, but has survived and is here to tell his story and help others through his charity. We are happy to be able to be a part of it, here in Le Raj."
Mr Ali provided drinks and dinner for 80 people without any cost for the charity.
To find out more about the James Whale Fund for Kidney Cancer and to donate go to jameswhalefund.org.