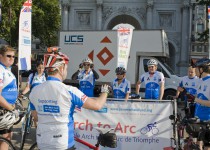 UCS Pull Out All The Stops for the Arch to Arc Bike Ride
International logistics specialists UCS went above and beyond the call of duty last week when they supported a group of challengers from the James Whale Fund for Kidney Cancer as they biked from London's Marble Arch to the Arc de Triomphe in Paris. Driver Darren provided comprehensive logistical support for the cyclists over the four-day marathon ride, transporting members of the support team as well as essential supplies.
Broadcaster James Whale, who set up the Fund after losing a kidney to cancer in 2000, expressed his thanks at UCS' support "The Fund and all the competitors are very grateful for the logistical support that UCS provided us with from start to finish. By carrying members of the team and our supplies we were able to ensure that our cyclists were always refreshed and well supported. We could not have done this without UCS." The competitors successfully raised in excess of £25,000.
For the second year running the James Whale Fund for Kidney Cancer hosted this event.  They were looking for fifty riders to take off on the 4 day adventure from London's Marble Arch to Paris' Arch de Triomphe on the 23rd June 2011.  The event hoped to raise at least £50,000.
Each rider had a fundraising target of £1000. Click on www.jameswhalefund.org for more information.