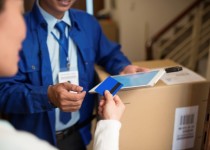 Acquiring the use of a courier service shouldn't be done lightly. It is a big deal to entrust your goods into the hands of someone else. Businesses often opt to outsource their delivery requirements to a third party provider due to their cargo being important or valuable and in some cases, time-sensitive.
With this being the case, it is vital that you choose the right courier when it comes to the delivery of your goods. You need to have complete confidence in your chosen courier. But in order to reach a level of implicit trust between you and your courier service provider, you will need to know what services your business needs.
To help you know what to look for in a logistics provider, we've put together a list of things that you should be looking for:
Reliability
If you have cargo to transport, you want to know that it will arrive to you clients, in a safe and timely manner. Nowadays people often buy goods following do some research about the product and method of delivery, and rightly so.
Courier companies should be no exception. You will want your business to be using the most reliable courier service provider. But how can you tell if a courier is reliable or not? One of the best and easiest ways to know if a business is trustworthy is to look at their feedback and reviews online.
Checking customer reviews gives you an unbiased view of the courier service provider's track record and level of quality. By comparing these reviews you can get a good indication of the level of quality that you can expect to receive and even more importantly, how reliable they are.
Security
A trustworthy provider should have safety and security measures implemented. This can range from features such as email verifications before the proceedings even begin, to transporting fragile items without breakages. Couriers should have strong references and be easily available to contact and update on the delivery status at all times. There should be check-in points for each delivery that are recorded and remove the likelihood of any deliveries being damaged or stolen.
Fast Delivery
When parcels are sent they are usually done so with an expected date of arrival in mind. And the sooner is usually better, as customers will require the fastest possible delivery.
If you know that your business can require same day deliveries for some of your products, looking out for a courier service provider that offers this is a great place to start. This can guarantee prompt delivery of your products. This service is often offered when the parcel can be dropped off and picked up by a specific time; nevertheless delivery is assured within 24 hours. This service tends to work best when the couriers are part of wide network of both domestic and international providers.
Please don't hesitate to get in touch with us to find out more about outsourcing your business's courier service. Give UCS a call today on 08448 793229.