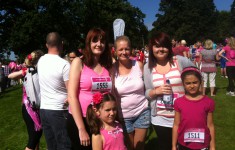 Samantha Watson, Technical Support Engineer for UCS participated in the Race for Life event on the 22nd July.
"The race went very well and we managed to complete it in 53 minutes. All in all was a brilliant day, lots of support from everyone around and the weather was brilliant, even if I did get a little sunburnt. We have raised a total of £1250 for Cancer Research UK. So a massive thanks to everyone that sponsored us".
Samantha's Mum was diagnosed with Breast Cancer in October 2011, following an operation, Chemotherapy and Radiotherapy she is now all clear and starting to get back to a normal life. Samantha is taking part in the race as a way to thank everyone that has helped look after her Mum, not just a big thank you to all the doctors and nurses, but also a big thanks to all the family and friends that have supported her and helped her get through this difficult time.
What is Race for Life?
The Race for Life story
Race for Life is the UK's biggest fight against cancer and the largest women-only fundraising event in the UK. Since Race for Life started in 1994, an incredible six millions participants have raised over £457million, more than any other UK event series raising money to fund cancer research.
Some of our Race for Life women take part in celebration of surviving a cancer experience. Others take part in memory of a loved one or to give hope to a cancer-free future. But all of you share a common goal: to raise money for Cancer Research UK's groundbreaking work and to help save more lives.
Progress we've made with your support
Since Race for Life began an incredible six million participants across the UK have raised over £457 million to fund the work of over 4,000 researchers, doctors and nurses dedicated to helping more people beat cancer.
Link:
www.raceforlifesponsorme.org
Event info:
raceforlife.cancerresearchuk.org