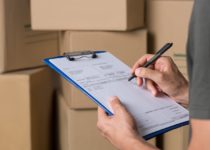 A reliable courier is an essential component in modern business logistics. Whether you're a high volume organisation looking for a courier with the resources to cope with intense demand, or an SME seeking added value, the right courier business should be able to be all things, and more. The courier market can be a difficult one to navigate, as the best value doesn't always come from the big, established names. If you're trying to find the right courier services for you, what should you consider?
Trust and reliability
A trusted and reliable service is something you should get for any number of deliveries, no matter how small the daily volume. If you're working with a provider where the service slips if daily requirements are low then that this is the wrong courier to partner with. Every delivery is important and you should feel like the courier service you're working with recognises that.
Security of delivery
Whether you're sending confidential documents or prototypes, it's important to know that your consignment is in safe hands. Find a courier able to offer secure delivery for each and every package, whether you're their biggest client or their smallest. Can you track your parcel at all times? Do they have a great track record of secure delivery? What precautions do they take? Make sure the courier you choose can guarantee every delivery.
A partner who listens
There's probably nothing more frustrating for a business than repeatedly experiencing a problem, identifying the solution and then having a logistics partner without the flexibility to deliver it. It's important to find courier services that will take issues seriously and work with you to find solutions, as opposed to expecting customers to adapt to their operating procedures.
Broad time frames
Consumer expectations are the highest they've ever been when it comes to brand deliveries – and the same goes for your B2B customers. A courier partner with the flexibility and resources to offer a range of time frames for your delivery is crucial. Same day delivery, express and next day delivery services should all be part of the package to give you the most freedom when it comes to booking the service that you need.
Tailoring logistics services to customers
A one size fits all service just doesn't work in logistics. Each business has its own very distinct set of needs and the best courier partner for your company will be the one with the ability to meet them. For example, you may be looking for an alternative courier to that recommended by your business head office, one able to prove the wisdom of switching services by delivering tangible results. You might be looking for a courier able to handle both national and international delivery with flexible, last minute responsiveness. Whatever your business needs, find a courier who can deliver it.
UCS offers worldwide logistics solutions that are flexible, secure and adaptable to your business. We develop our services around your specific needs and are continuously evolving our systems to offer a better and more comprehensive options. Give us a call today on 08448 793229 to discuss your requirements.