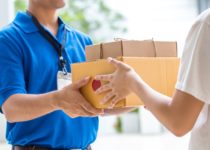 Here at UCS, we know that booking your deliveries should be a fast and efficient process, which is why we are on a mission to constantly improve our booking systems. We aim to regularly make improvements to our booking system that will reduce the time taken to fill in information, and make it a much easier process overall. Our new booking system reflects our desire to provide the most efficient services, so what has actually changed?
One-size doesn't fit all
Firstly, it's been important for us to to recognise that different requirements for national, international and various countries of delivery will have differences in the information that is required. Whilst national deliveries normally require a simpler data input, such as the address, full name and tracking code, international deliveries will often require a greater volume of information. Where we had previously provided one single booking process for all of our customers, we have now split this into different options so international and national deliveries will require different forms to be filled out.
Tailoring your booking service
The new booking service is tailored to ensure that customers requiring simpler, national UK delivery consignments no longer have to fill out the same amount of information as international deliveries. We have filtered down our booking system to only include the necessary information that is required, which has shortened the process for all of our customers.
A streamlined process
Our new booking system was launched on 4th July 2017, with UK consignments no longer required to fill out the full 3 page booking system – only the relevant sections. This will save many of our customers a huge amount of time, and the process should be much simpler than before. Why not give it a try and let us know how much time you've saved? It also means that our new customers will be introduced to a quick and streamlined booking process which makes all of their orders easy to place.
Changes still to come
Along with our new booking system, the team at UCS are looking to implement further improvements shortly which will include things like allowing the screen to be used for shipments to the EU. Our customers' requirements are important to us and we value any feedback you have. If you have any further feedback or would like to let us know how you got on with the new booking system, give us a call today on 08448 793229.