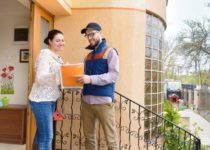 Thanks to the increase in online shopping there are more options than ever now for businesses looking for more cost effective ways to ship to customers. Courier services, in particular, offer the opportunity to make significant customer service improvements, as well as reducing spend, whether you're looking for international or local delivery. So, why should you consider an outsourced courier service for 2018?
Security and speed
Outsourced courier services have thrived on being able to offer a better and more secure option than traditional post. Hand to hand delivery often boosts overall standards of security and also means that it's much easier to get a package into the hands of the recipient more quickly.
A broader range of options
Courier services tend to provide a wider selection of choice when it comes to the shipping options you're able to offer to your customers. With outsourced courier services there is a vast range, from fast track and next day services, through to heavy parcel handling and various proof of delivery mechanisms.
More accurate pricing
When you use courier services all the pricing is based on the exact size and weight of the package. So, you're only paying for what you send, as you're not relying on estimates that could result in overcharging.
Global delivery – to the same standard
Courier services reach all across the globe and aren't reliant on traditional postal networks to get your shipments from A to B. So, it's difficult to find anywhere that your courier service won't be able to reach. Plus, the experience and expertise in the industry mean that the couriers you deal with can advise on key details, such as local customs or duty.
Helping you to save time and money
Using outsourced courier services tends to end up being cheaper overall than traditional postal services. Plus, the more you send, the more you benefit from bulk price drops. You can also save a lot of time with a courier service that picks up your deliveries direct from your door. There's no need to take packages to a drop off point, you just need to have them ready for shipping and the courier will come to you.
Improving your customer service
There are many ways in which courier services contribute to better customer service. Tracked deliveries, for example, provide customers with real time information about their shipments, which can not only reduce the number of enquiries your business receives unnecessarily but also improve customer satisfaction and perception of transparency. Courier services also tend to be more reliable than traditional post – as well as more accountable. So, there will be fewer issues to deal with, whether that's a late delivery or a missing package.
If your business is looking for a simple way to do better in 2018, from improving customer service to introducing more efficiencies, working with outsourced courier services could be the New Year change that you need. Contact UCS today for more information.