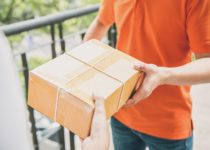 Secure logistics solutions provide peace of mind and help to avoid costly and time consuming situations that arise from poorly thought through service. Optimum security not only delivers a better experience for the customer but also protects everyone – and everything – involved in the delivery process, from employees through to business assets. When it comes to ensuring that security is at its best there are a number of priorities involved.
 A top security team
If you're looking to ensure optimum security for your deliveries then choosing courier services where security is a priority is a must. The best outsourced courier services have dedicated team resources for security. Managing security performance, implementing best practice and developing focused systems and strategies to ensuring optimum security will be high on the list.
Recognising areas of high risk
Experienced courier services know that different areas present different risks when it comes to the security of parcels in transit. This kind of knowledge is essential to ensuring that your shipments don't run into trouble. GPS, security escorts and increased site control can all be used to keep security standards high in areas where risks are greater.
Training and screening staff
The risks involved in transporting parcels can be mitigated with well trained staff who know what to look for and how to respond where there is an issue. Many outsourced courier services put staff through a series of training courses, from initial induction to lay a firm foundation of security awareness, through to specific targeted training courses such as security awareness for drivers. Screening of staff is another crucial way in which the security of goods in transit can be optimised. From compliance with local legislation, through to internal risk assessment, there are lots of standards against which employees and contractors can be screened.
Risk assessments on the ground
Even in areas where risks might be less obvious it still pays for courier services to carry out periodic risk assessments of regular routes. This ensures that there is full awareness of any potential issues along both regularly used and brand new routes.
Internal security standards
By incorporating industry best practice, as well as the benefit of years of experience, outsourced courier services are able to design and implement internal security standards that ensure goods in transit have the best possible security standards at all times. This could include a very wide variety of provisions, from monitoring such as CCTV and alarm systems at locations that are used for storage or processing, to access control and regularly reviewed vehicle security procedures. Transported Asset Protection Association grading provides an indication of the kinds of security controls that are in place at a courier and cross border partnerships give a good indication of customs-led secure supply chain programmes that are designed to ensure security across borders.
If you're looking for outsourced courier services that meet these standards to ensure optimum security for your transported parcels we can help. Our business is designed with all of the above in mind – increasing and optimising security is part of an ongoing process of evolution for us.