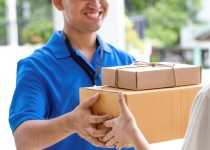 Global logistics is a huge business, and now amounts to a worth of around £55 billion. This demonstrates increased mobility across the world, where products can be shipped globally via air, sea or other methods of transportation, quickly and without any hassle. There is huge competition from other companies within each sector to provide the greatest delivery services to customers, so it's important to have a logistics strategy that helps you to remain competitive.
Remaining competitive
In order to compete in a sector that presents vast delivery options to customers, such as different delivery speeds, tracked parcels, and international shipping, it's vital to keep up with the latest trends in logistics. Technology has a huge role to play in this, revolutionising how the logistics industry works. With this in mind, here are 3 features of a modern logistics strategy that you should use:
#1 Delivery sharing and customer control
Something that is becoming more prevalent in all areas of customer-focused business is increased customer control. We've seen the growth of apps, from popular clothing stores to taxi services, and even restaurant chains developing ways to choose and pay through a mobile device. This is something that is transferrable to the logistics industry too.
Customers expect greater insight and control surrounding their order than in previous years. This can include on-demand services like ordering through a ready-built app, or providing real time information about the location and estimated delivery time for their order. Overall this makes way for greater transparency and customer control, and increases the efficiency of orders by eliminating the need for paper, email or telephone conversations.
#2 Automated processes
Ultimate efficiency is delivered through logistics via automation. If processes can be automated, this can save a huge amount of time and effort. For example, UCS integrates with our customers' order systems so that as soon as an order is placed, the item is able to be packaged and prepared for dispatch as quickly as possible. This minimises the overall order time, since communication is instant and the process of delivery begins immediately.
#3 Complete warehouse digitisation
The next step for the logistics industry is to go completely digital. There has already been a move towards this, however many warehouses still use paper in some form. Again, this would allow for more automated processes such as optimum delivery routes being automatically selected, as well as real-time object recognition and tracking through bar codes and item identification, which is why an increasing number of companies are working towards achieving this over time. Moving to a fully digital way of working would not only decrease error, but also speed up the overall order-to-delivery process.
It remains to be seen whether technology will completely replace people within the logistics industry in the future, however it is clear that automation and communication are increasing efficiency and customer satisfaction.
If your logistics strategy needs updating, or to find out more about UCS' logistics services for your business, give one of our team a call today on 08448 793229.