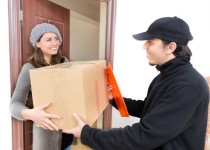 Every B2C business knows that keeping customers happy and giving them the best experience with every order they make is key to generating repeat business. Your delivery service is a reflection of your brand, so it's essential that you create the best impression possible, with smooth services at all times.
Happy customers create brand awareness
The customer experience is always relevant because satisfied customers are more likely to tell others about your brand. The experience that you provide each customer with is an opportunity for positive or negative brand awareness. This means that it's important to consistently exceed expectations in order to create a strong positive image whereby customers become brand ambassadors and recommend your products to others.
A customer-centric approach
The customer-centric approach requires examining buyer behaviour and finding out what expectations your clients have. This enables you to focus on meeting these requirements at every stage of your supply chain management, from the order process, right through to the delivery of goods.
Customer delivery requirements
So, what is it your customers are asking for? It's now expected by a growing number of customers that they will be able to track each stage of their delivery – normally using a link online to see the progress. Commonplace features like these are essential to remain competitive in the market, since customers will often favour companies who can provide them with insight and information into their order.
Speed and reliability
Fast deliveries and international shipping is growing too, and customers will expect to pay a small premium to take advantage of services such as same day delivery. If you can offer this, you will not lose customers who can make an order with a faster delivery time elsewhere.
Reliable services is a significant factor when it comes to customer satisfaction. We live in a world where convenience is at the centre of many of the things that we do – having to wait around for a delivery to arrive is not something that many customers are willing to do. Companies offering guaranteed delivery time slots are becoming more favoured amongst customers since they offer a greater level of flexibility and choice. Parcels need to be delivered in good condition, and exactly as ordered to ensure that your customers receive the service they want and expect.
Predicting future buyer demands
Bearing in mind current customer demands, you can take it one step further to stay ahead of your competitors by observing buyer behaviour and requests within your industry, and working towards meeting future demands. Whether this means offering a wider range of delivery options to a greater span of countries, or using trained and experienced couriers for a pleasant face-to-face experience, these things will all contribute to creating the best experience for each one of your customers.
If you require delivery services or would like some advice regarding customer satisfaction during the order to delivery process, get in touch with UCS today.