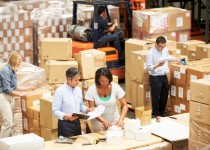 It's the job of a supply chain manager to organise and build a strong team. This can be challenging, particularly across multiple locations, spread nationally or internationally. When looking to build a successful supply team, there are a number of things to consider, such as how to incentivise those on your supply team, so that they can convey great customer service and deliver the highest quality services at all times. Here are some great ways to create the best supply team, and deliver the most efficient services to each of your customers as a result:
Benchmark targets and exceed them
Whether it's in-house targets or comparisons with other successful supply chain managers, targets are important to incentivise and motivate your employees. Having targets to reach and exceed promotes employee satisfaction and retention, as well as continually improving customer experience.
New initiatives and training
Training is key for your employees. Interaction with customers is something that leaves a lasting impression to customers on the receiving end. Making sure that they have someone helpful, polite and informed to communicate with at all times is an essential part of your logistics strategy.
Build a supplier and transportation network
Perhaps the largest part of logistics, contributing to both convenience and keeping costs low, is having a reliable supplier and transportation network of contacts. This will ensure that you have set distribution routes and delivery methods, which gives your customers options, including faster delivery times. This is something that can be built up over time, and regularly researching to make it more cost and time efficient.
Create an attitude of excellence
In all areas of your business, creating an ethos of excellence within your business will mean that you are always working towards providing greater supply chain management. Look at the way larger companies are doing things – are they using new technology, offering customers the ability to track parcels and communicating regularly? Adopt already proven methods for a strong and successful supply management team.
A customer-centric approach
Ultimately all that you do to create a successful supply team should have a customer-centric approach. Essentially, you want to give the best overall experience and lasting impression of your company, and your supply team may not always be customer facing, but they have just as much of an important role to play in creating a positive customer experience.
Rely on the professionals
If you've simply not got the in-house resources to manage your supply chain, why not outsource your logistics to professionals? UCS are experienced at managing the whole process from orders to delivery methods, internationally, as well as across the UK. Get in touch today to find out what we could bring to your business and simplify you supply chain management.