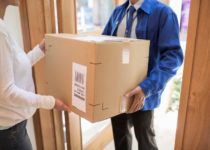 What is it you look for when choosing a delivery service for your clients? The way to create a delivery service that is customer-friendly is to see what your customers are actually looking for. It's important to ensure that you have a system that works for you – it should be reliable, efficient and ensure the safe delivery of all of the orders placed – and ultimately it should reflect how you are a brand that wants to provide the best services and products to your customers. With this in mind, how can you achieve a customer-friendly delivery service?
Step 1 – Provide convenient options to your customers
Some customers will have expectations of the delivery service that they should receive – whether this is next-day delivery, or within 3-5 working days. The most important thing is to give your customers a choice to allow them to pick the option that best suits them.
Often customers will even be willing to pay a higher price for the convenience of a designated time of delivery during the day, whilst others may not want to pay a premium when they don't need the delivery urgently. The key to success here is to give your customers the ability to create their own delivery solution.
Step 2 – Reliable and friendly couriers
I'm sure many of us have experienced coming home to a note saying we had missed a delivery. This can be extremely frustrating, particularly if it then means having to make a trip to pick up the delivery elsewhere from a nearby depot or drop-off point.
Giving customers the chance to provide a "safe place" to leave a parcel, such as a porch, or even with a neighbour, helps to deliver a personalised and reliable service. For those who are available when their delivery arrives, your couriers need to be friendly and professional, asking for a signature where necessary with a friendly attitude, since ultimately they are representing your brand.
Step 3 – Clear customer communication
Communication is vital to ensuring an overall customer-friendly delivery service. Not only the communication of the delivery driver is important, but throughout the whole process. Once an order is placed, an automatic confirmation should be sent to them via email or text message as a receipt, and often serving as a reminder of the delivery details.
Online tracking is one of the best and most currently-used ways for customers to stay in clear communication with you at all times. They can track the location of their parcel in real-time to see that it's on the way, which reduces unnecessary customer calls if they are checking up on their delivery. At the same time, you should alert customers via email, text or a call if there are any problems or changes to the expected delivery time. This can often prevent a positive experience from becoming sour.
Customer-friendly service encourages repeat buyers
If you're able to provide delivery services to fulfil your clients' needs effectively, then you're more likely to encourage repeat buyers. It's also a great marketing tool since happy customers often become strong brand ambassadors who will promote your products to friends and family.
Find out more about our customer-friendly delivery services by giving UCS a call today on 08448 793 229.