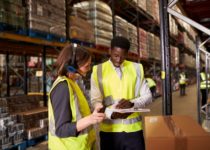 Supply chain management covers everything from inventory management to warehousing, assembly, packaging and shipping. Keeping on top of all of this can prove time-consuming and expensive, so why not leave it to the professionals?
Below are our top 4 reasons why you should consider outsourcing your supply chain management.
1. Save time and money
Outsourcing can sometimes be attributed to extra costs but outsourcing your supply management can actually save you money. Setting up and running your own warehouse, packing and distribution management can be incredibly expensive but large firms dedicated to supply chain management can utilise their economies of scale to drive down costs. This means that outsourcing your supply chain management to these firms can actually save a substantial amount of money, particularly if you don't already have these skills and resources in place.
As well as this, outsourcing your supply chain management to another firm can free up vast amounts of time, allowing you to focus your efforts on projects relevant to expanding or improving your business or further product development.
2. Experience
Gaining experience in effectively managing a supply chain can take years and large amounts of money as you try to streamline the process. On top of this, hiring and training staff to a high standard can have substantial costs. These practices are best handled professional as a third-party logistics provider will already have the invaluable experience and have an efficient, streamlined process in place. You can benefit from their years of experience and established contacts and transportation routes, for overall faster, more reliable deliveries.
3. Established relationships
As well as having experience in the industry, a third-party supply chain management firm will have already established relationships and a diverse resource network. Having existing relationships with contacts in all areas across the industry allows the firm to meet your supply chain management needs in the most effective and cost efficient manner by negotiating lower costs. This means an overall higher level of productivity as well as increased profit margins, and the ability to offer reduced delivery costs to your customers.
4. Flexibility and Scalability
Another advantage to outsourcing your supply chain management is the scalability that it offers. As your business grows and expands, your supply chain needs to be able to handle the increased demand but if you are outsourcing your supply chain management, you can simply upgrade your package to deal with the growth and the supply chain management firm will adapt accordingly. This increase the efficiency of your supply chain management and ensures your supply will always be able to keep up with your demands, giving you peace of mind.
How can UCS help?
UCS are Global Logistics Specialists with over 20 years of experience in the courier and logistics solutions industries. We aim to use our experience in the industry to help you effectively manage your supply chain in order to save you time, money and hassle, freeing up time for you to work on projects that matter. Why not leave your supply chain management in the hands of the professionals and give yourself peace of mind?
We strive to provide the most affordable, flexible options for your business whether you have a single, urgent package to deliver or if you need to establish a long term, regular large scale delivery. We give you real time control over stocks and keep you up to date with reliable information to ensure the best service possible.
To find out more, visit our website here or call on 08448 793229 or 01344 483835.