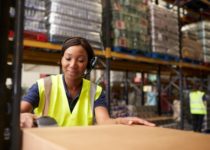 If you're looking to manage your product storage and delivery in the most efficient way possible, then you should do what you would do in many other areas of life – learn from the best. It can be tricky to keep costs under control and establish a complete plan that works to satisfy both your in-house needs and your customers' requirements. Following these 5 best practice tips can help you to ensure the optimum storage and delivery of your products:
#1 Central supply chain management
The beginning of creating a systematic approach to your product delivery is to establish central supply chain management. This will give an order to all of the processes involved in storing, packaging and delivering your products and designate responsibility for different areas. This improves communication and ensures that everything is done to plan, to make the process as quick and easy as possible.
#2 Use technology to your advantage
Technology can also help to ensure optimum product storage and delivery if you use it to your advantage. For example, the logging and tracking of individual parcels can be done using scanners, so that employees can scan parcels wirelessly using handheld devices, which will keep customers up-to-date with the location of their parcel at all times. This provides the optimum level of customer service and minimises the risk of parcels being lost.
#3 Build key relationships with suppliers
If you are able to build key supplier relationships, then this will enable you to deliver to your clients quickly when orders are made. It will also ensure that you can keep up with demand and order more stock to your warehouse when needed, knowing that it will arrive promptly. Your customers can then rely on you always having the products they need, even when ordered at short notice, and agreed delivery times can be worked out according to how fast items can be dispatched to you initially if they aren't in stock.
#4 Work out the best warehousing strategy
Depending on the turnaround of your ordering stock and orders being placed by your customers, you will have different warehousing requirements. Sometimes it might be that this is unpredictable and the amount of warehouse space you need varies a lot. In this case it could be useful to you to outsource your warehousing needs.
UCS offer this as part of full supply chain management services, and costs can be a lot lower than having your own warehouse since they can be flexible and cater to many different clients at once. They can also then package and send goods directly as soon as an order comes in, meaning that the steps in between are eliminated and the whole order to delivery process is sped up to give optimum services to your clients.
#5 Partner with trusted couriers
Partnering with trusted couriers is one best practice way to ensure that your deliveries are made as efficiently as possible. Experienced couriers will also be friendly and helpful to those accepting deliveries, and be able to deliver at convenient times to provide the overall best possible customer service. UCS work hard to ensure that all our couriers are trained and friendly, to deliver your products and give a fantastic impression of your brand.
Find out more about optimising your storage and delivery solutions by giving the team at UCS a call today on 08448 793229.